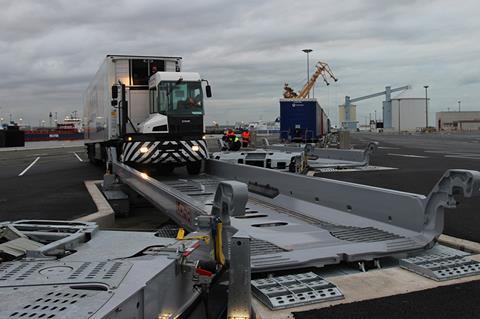 FRANCE: Brittany Ferries has announced plans to launch its first rail motorway service in 2021, a 980 km landbridge carrying unaccompanied lorry trailers between the Channel port of Cherbourg and Mouguerre close to the Spanish border near Bayonne.
The rail service is intended to complement its existing shipping routes linking the UK and Ireland with Spain. It would also be available for French domestic traffic.
The ferry company is seeking to increase the number of unaccompanied vehicles it carries; this currently accounts for 20% of its traffic and more than 25% of direct traffic between the UK and Spain.
It envisages that unaccompanied trailer traffic could increase as freight hauliers seek to avoid the costs of paying lorry drivers while they wait to pass through future border controls arising from Brexit.
Cherbourg has been selected as the only suitable port in the western Channel with an existing rail link close to the ro-ro ferry linkspan. Ports de Normandie will undertake the required infrastructure works, installing facilities for loading and unloading trailers.
The southern terminal at the Centre Européen de Fret site will be able to handle 750 m trains without interfering with the other operations.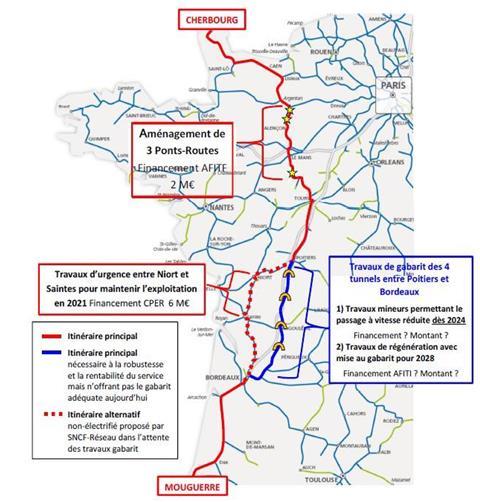 The service is to be organised in co-operation with SNCF-Réseau and Lohr Industrie, which would provide piggyback wagons similar to those used on the existing Calais – Orbassano (Torino) service.
From Cherbourg, the trains would run via Mézidon, Argentan and Tours, requiring three road bridges to be modified at cost of €2m. Trains would switch to diesel traction at Poitiers, reaching Bordeaux using a regional line via Niort and Saintes which would upgraded at cost of €6m. This avoids four tunnels with restricted clearances on the direct route, although it is envisaged that these could be upgraded from 2024 subject to funding being made available.
The overnight service would be operated by two dedicated 22-wagon rakes, with daily departures from Cherbourg at 18.46 arriving in Mouguerre at 09.25 and northbound trains leaving at 16.29 and arriving in Cherbourg at 09.14.
The road-sea-rail-road traffic is estimated at 25 000 trailers/year, generating a 10% increase in trailer-carrying train-km in France and saving 1 tonne of CO2 for each trailer transferred from the roads.
The overall cost of the wagons and the Mouguerre terminal is put at slightly more than €30m.
In the longer term, Brittany Ferries plans to create another terminal at Sète on the Mediterranean coast which would also be served by trains to and from Cherbourg.