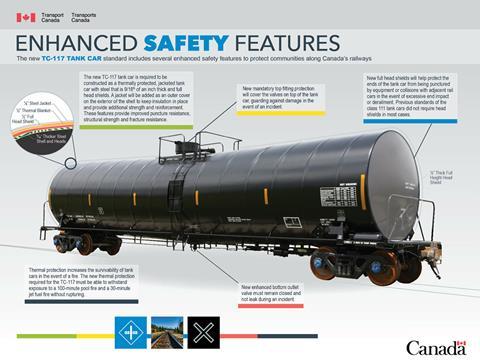 CANADA: The date for ending the use of DOT-111 tank wagons to carry crude oil has been brought forward to November 1, Minister of Transport Marc Garneau announced on July 25.
Protective Direction 38 means unjacketed legacy DOT-111 wagons must be phased out six months earlier than previously scheduled, and legacy jacketed DOT-111 wagons 16 months earlier.
Tank wagon regulations in Canada and the USA have been tightened following the disastrous derailment and fire at Lac-Mégantic in Québec in 2013. The DOT-111 type must be replaced by modern designs with additional safety features, including thicker steel to provide greater protection, head shields to protect the ends of the tank, protection of the top valves, and thermal protection to improve survivability in the event of a fire.
According to Transport Canada, more than 146 000 carloads of crude oil were shipped in 2015. The use of DOT-111 wagons for all flammable liquid traffic must end by April 30 2025.
'By removing the least crash resistant tank cars in service, we continue to modernise how dangerous goods are shipped in Canada and further protect Canadians and their families who live near Canada's rail network', said Garneau.
The Railway Association of Canada said it strongly supported the decision. 'Removing this tank car model from service sooner is an effective step towards ensuring the safe transportation of dangerous goods in Canada,' said RAC President & CEO Michael Bourque. 'We welcomed harmonised Canada-US tank car standards introduced last year, and we're equally pleased with today's announcement.'