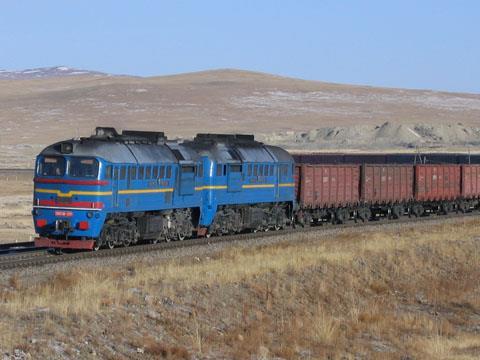 MONGOLIA: Chinese state-owned mining group Shenhua, which operates 1 765 km of heavy haul coal railway in northern and central China, has signed a joint venture agreement to develop a cross-border rail link to serve the Tavan Tolgoi coalfield in the South Gobi region.
Under an agreement signed in Ulaanbaatar on April 7, Shenhua will take a 49% stake in a joint venture being formed to progress the project. The remainder will be held by a consortium of Mongolian firms, including Erdenes Tavan Tolgoi and the private sector Mongolian Mining Corp, according to Yondon Manlaibayar, Director-General of the railway department at Mongolia's Ministry of Roads & Transport.
The joint venture will initially build a 13 km standard gauge cross-border line from the nearest Chinese railhead north of Baotou to a transloading terminal in southern Mongolia where coal will be brought from the mines by road.
A second phase would see the cross-border link extended by a further 27 km to meet the 217 km broad-gauge coal railway from the Ukhaa Khudag coking coal mine, which is being built by South Korea's Samsung C&T under a US$483m contract awarded last year. Manlaibayar said the extension would also be 1 435 mm gauge, and a gauge-changing facility would be provided at the southern end of Samsung's 1 520 mm gauge route.
Shenhua has already signed an agreement to buy 1 billion tonnes of coal from Mongolia over 20 years under a deal announced last October during a visit to China by Mongolian Prime Minister Norov Altankhuyag. This is reportedly one of the reasons that the joint venture has decided to develop the temporary transloading facility, rather than wait until the connection to the Korean-built line is ready.