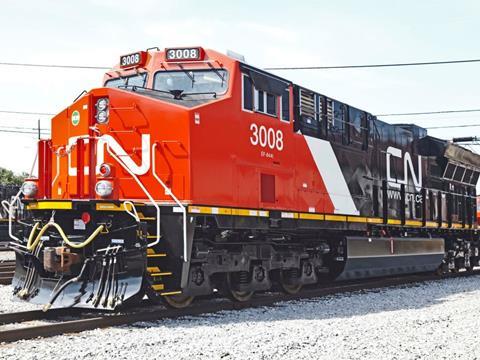 CANADA: In order to 'accommodate future growth opportunities and drive operational efficiency', Canadian National announced on December 22 that it had ordered 200 new diesel locomotives from GE Transportation for delivery over the next three years.
The order includes a mix of EPA Tier 4 compliant Evolution Series locomotives and earlier Tier 3 types using accumulated Tier 4 certification credits. All will be equipped with GE Transportation's GoLinc digital control platform, supporting the Trip Optimizer driver advisory system to improve fuel efficiency and the Locotrol eXpanded Architecture for distributed power operation.
The largest order placed by a North American Class I railroad since 2014, the CN deal would help 'to turn around the North American locomotive market', according to GE Transportation CEO Rafael Santana. The locomotives are to be assembled at the GE plant in Fort Worth, Texas for delivery between 2018 and 2020.
'We are bullish on the North American economy and on our ability to compete and win new business with our superior service model', explained CN President & Chief Executive Officer Luc Jobin. 'In the years ahead, these locomotives and their digital technology will support and enhance our operational efficiency. We are proud to continue our partnership with GE Transportation and look forward to adding these units to our fleet as part of our commitment to operational and service excellence.'