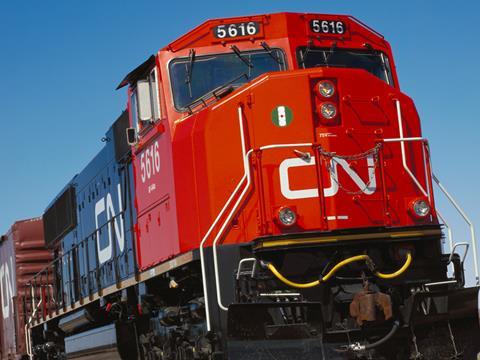 CANADA: 'Despite facing difficult winter conditions in December, CN delivered very strong fourth-quarter results and throughout 2016 demonstrated once again its ability to perform well in a mixed economic environment', said President & CEO Luc Jobin when presenting the company's annual results on January 24. 'We saw weaker volumes during the year, but quickly adjusted.'
Net income increased 3% year-on-year to C$3·64bn, but adjusted net income remained flat at C$3·58bn. Operating income rose 1% to C$5·31bn.
A 5% decrease in revenues to C$12·04bn was mainly attributable to lower volumes of crude oil, coal and frac sand, as well as lower fuel surcharges. Revenues increased in the automotive (6%), forest product (4%) and grain & fertiliser (1%) sectors, but this was more than offset by revenue declines for coal (29%), metals and minerals (15%), petroleum and chemicals (11%) and intermodal (2%). Carloadings declined 5% to 5·2 billion.
Operating expenses decreased by 8% to C$6·7bn, with productivity gains as well as lower pension expenses and fuel prices. The operating ratio of 55·9 was an improvement of 2·3 points on 2015.
Looking forward, 'the economy remains challenging, but we remain optimistic and expect to see moderate volume growth', Jobin said. The 2017 capital investment programme is worth C$2·5bn, and includes increased spending on Positive Train Control in the USA.