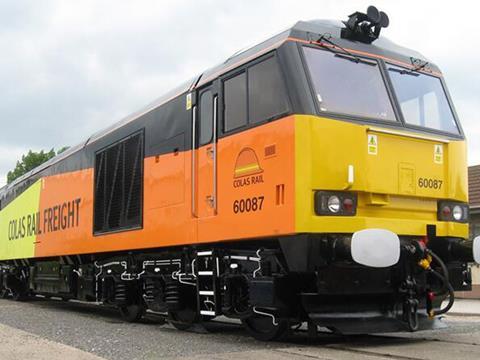 UK: On the night of June 4-5, Colas Rail and TNT Express operated a trial freight train from Rugby to London Euston, carrying express parcels and perishable products for distribution in central London.
Organised by consultancy Intermodality, the train was intended to demonstrate the feasibility of using rail for 'high-speed, low-carbon deliveries into the heart of towns and cities'. The train was formed of former First Great Western motor-rail car carriers, which are suitable for carrying traffic in roll cages; these had previously been used for another trial with Stobart in 2012, delivering perishable food for six Sainsbury's stores.
For the latest trial, TNT delivered the roll cages to Colas Rail's Rugby depot, where the transfer from road to rail took 20 min. After a 132 km trip, the train arrived at Euston at 02.38, and the goods were transhipped into a fleet of TNT electric and low-emission road vehicles in less than an hour.
Intermodality Director Nick Gallop, congratulated TNT, Colas Rail and Network Rail on a successful demonstration. 'This trial more than ever has laid to rest the myths about rail freight and urban logistics: the train ran to time, achieved a faster transit than by road, used an otherwise deserted main line station as a freight interchange, and reduced emissions by at least two-thirds.'
TNT is understood to be looking at introducing a regular overnight service each way between London and Glasgow, avoiding the need to route traffic through its road distribution hub at Kingsbury. However, Network Rail has expressed concern that night operations at Euston might be difficult after 2016, when the station is due to be rebuilt to accommodate HS2 services.
Colas Rail has purchased 10 Class 60 diesel locomotives from DB Schenker Rail UK. Colas said the locomotives which Brush supplied to British Rail in the early 1990s are being upgraded by DB Schenker Rail's Toton depot to the 'Super 60' specification that has 'already proven highly successful' at DB Schenker Rail.