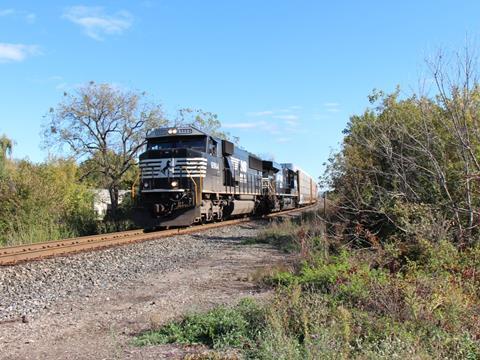 NORTH AMERICA: Canadian Pacific confirmed on November 17 that it had written to Norfolk Southern Corp, proposing a 'business combination' to 'create a transcontinental railroad' which it feels could become 'a new industry leader'.
Rumours of a bid had emerged a week earlier on November 9, after an earlier proposal by CP CEO Hunter Harrison to merge with CSX was rebuffed last October. CP said the merger with NS would give the combined company 'the scale and reach to deliver improved levels of service to customers and communities while enhancing competition and creating significant shareholder value'.
CP is one of the smaller Class I railroads, with a network of around 24 600 route-km, primarily serving western Canada and the northern part of the USA. Norfolk Southern's 33 500 km network stretches southeast from Chicago and New England to the east coast and the Gulf states. NS has a market capitalisation of around US$26bn, compared to US$21bn for CP.
Describing the offer as an 'unsolicited, low-premium, non-binding, highly conditional indication of interest', Norfolk Southern said the offer of US$46·72 in cash and 0·348 CP shares per NS share represented 'a premium of less than 10% based on closing prices today'. Nevertheless, the company said its board of directors would 'carefully evaluate and consider this indication of interest' in the context of its own strategic plans, and its 'ongoing review of opportunities to enhance stockholder value'. NS shares rose 6% in after-market trading following the announcement, but then slipped back slightly.
According to CP, the merger 'would result in a company with the potential for faster earnings growth than either CP or NS could achieve on their own, while maintaining a strong investment-grade credit rating'. It believes that the proposal would satisfy both the US Surface Transportation Board and the Canadian regulatory authorities. However, NS feels that 'any consolidation among Class I railroads in North America would face significant regulatory hurdles'. There have been no significant mergers since NS and CSX jointly acquired Conrail in 1999.
CP said the combined railroad would be able to route traffic away from the congested Chicago area, creating 'fluid routes through under-utilised hubs' and freeing up much-needed capacity for other operators. CP recently sold its former Delaware & Hudson Sunbury – Schenectady line to NS, giving the latter better access to New England.
To mitigate shipper concerns over a reduction of competition, CP has proposed 'a new approach to terminal access', which would allow another carrier to operate over the merged railroad's tracks and access its terminals 'in the event the new company failed to provide adequate service or competitive rates'. It also envisages that shippers would have greater choice in nominating interchange points, ending the practice of 'bottleneck pricing'.