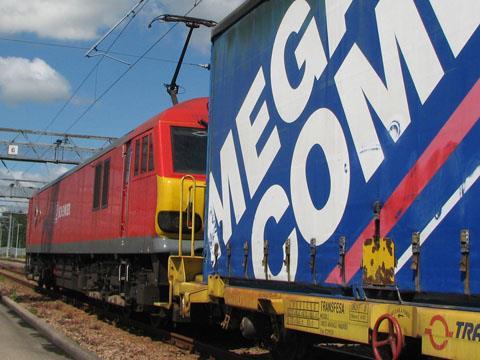 EUROPE: DB Schenker Rail launched its second weekly service between the UK and Wroclaw in Poland on October 8, when a train loaded with 'a range of manufactured goods' departed from Barking in east London at 23.36. Having launched a weekly service in November 2011, DB Schenker has now doubled the frequency in response to 'increased customer demand'.
'DB Schenker Rail is a pan-European rail freight operator and the strengthening of our services between Poland and the UK clearly illustrates the success of our strategy for European rail freight growth', said DB Schenker Rail Chairman Alexander Hedderich. 'Through effective trading corridors such as this one we are able to provide customers with the economic and environmental solutions that enable their use of rail freight to increase.'
Operating on High Speed 1 between London and the Channel Tunnel, the DB Schenker service is able to carry 9 ft 6 in high swap bodies that would foul the loading gauge on conventional routes in the UK, as well as standard European wagons.