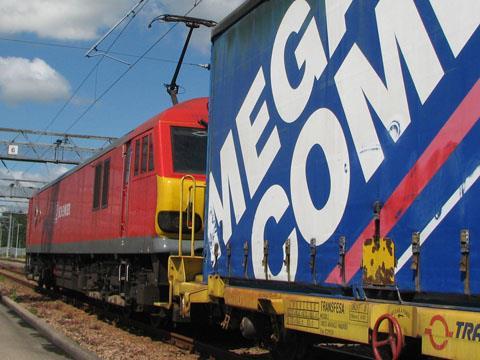 UK: DB Schenker Rail operated its first train of standard European-profile wagons over High Speed 1 in the early hours of July 23, and has confirmed plans to launch regular services.
The trial involved two wagons from DB Schenker's Spanish logistics business Transfesa and four curtain-sided Mega Combi swap bodies, a type commonly used in the automotive industry.
Restricted clearances on the UK network mean that the high speed line from the Channel Tunnel to London is the only route able to accommodate standard European wagons, which offer higher capacity and thus greater efficiency than UK-specific designs.
'This rail freight service is an historic milestone for European rail freight', said DB Schenker Rail (UK) Ltd CEO Alain Thauvette. 'For the first time ever, the larger swap bodies as used as standard across mainland Europe were transported to London in a fault-free operation.' Freight trains can now run to London 'from anywhere across Europe on the DB Schenker Rail pan-European network', which the operator says will help to increase modal shift from road to rail.
DB Schenker Rail has been undertaking five months of trials for the operation of freight on HS1, supported by the EU's Marco Polo programme.