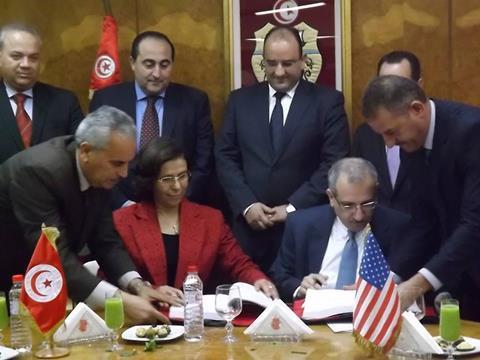 TUNISIA: National railway SNCFT has awarded Progress Rail Services a 165m dinar contract to supply 20 Electro-Motive Diesel GT42AC diesel locomotives which will primarily be used to haul phosphate trains in the hot, dry and sandy environment.
The metre-gauge locomotives are to be manufactured at Progress Rail's plant in Muncie, Indiana. The first 10 are scheduled to be delivered from the USA to Tunisia in September 2018, with the rest following in November of the same year.
'For the past 10 years, we have delivered nearly all of the high horsepower diesel locomotives in North Africa and the Middle East', said Billy Ainsworth, CEO of Progress Rail and Vice-President of the Rail Division at its parent company Caterpillar. 'We have accomplished this by listening closely to our customers' feedback on their regional requirements. After a highly competitive process, we were extremely pleased to be selected as the supplier of choice'.
Ainsworth said the GT42AC offered 'reliability, fuel economy, advanced technologies and digital capabilities', which would 'upgrade a previously aging railway fleet by transforming it into a powerful, modern fleet for today.'