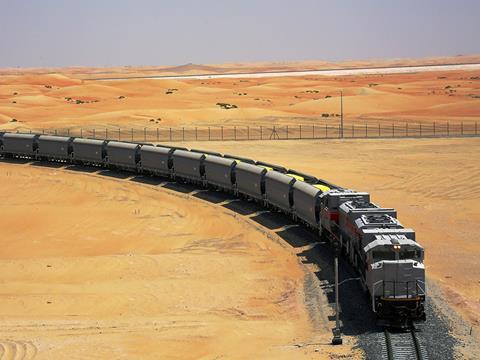 UAE: Etihad Rail has selected Egis to provide project management consultancy services for the ongoing development of the country's rail network and connections to neighbouring GCC states.
Under the contract announced on May 23, Egis will assist Etihad Rail with the development of stages 2 and 3, which are now scheduled for completion by 2024. The project promoter had begun work on Stage 2 in 2015, but the tendering process was suspended in January 2016 pending a review of the overall timescale for the GCC railway programme.
Etihad Rail's 264 km Stage 1 is now in operation for freight traffic, connecting the Shah and Habshan gas fields in southern Abu Dhabi with the Gulf port of Ruwais. Stage 2 would add a western extension from Ruwais to the Saudi border at Ghweifat and an eastern line from Tarif to Al Aïn on the border with Oman, which would form part of the main GCC rail corridor, plus lines heading north to Au Dhabi city and the port of Jebel Ali near Dubai, totalling around 600 km.
Stage 3 would serve the northern emirates, reaching Dubai central, Port Saqr and Khor Fakkan, adding a further 250 route-km. Once completed, the network of more than 1 000 route-km would serve around 40 freight terminals and passenger stations, along with stabling and maintenance depots.
Egis says its PMC team will work 'in close co-operation with Etihad Rail', bringing international project management experience and technical expertise. The 'project ownership team' will supervise various aspects of the project, including the engineering consultant responsible for preliminary design and construction supervision, the future design-and-build contractors, and any third parties.
Egis is currently providing project management for the Red Line metro extension in Qatar and design, engineering and construction services for a 'scalable-capacity' autonomous shuttle network in Dubai.