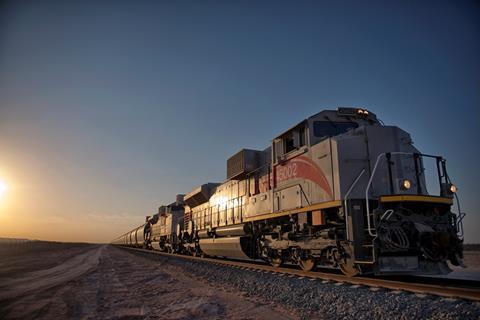 UAE: National railway developer Etihad Rail has awarded the fourth major contract for its Stage Two expansion programme to a joint venture of China Railway Construction Corp and local partner National Projects & Construction.
Valued at 4·6bn dinars, the Package D contract covers the civil works and construction of 145 route-km running northeast from the border of Dubai through Sharjah to the ports of Fujairah and Khorfakkan on the Gulf of Oman.
The agreement was signed by Etihad Rail Chief Executive Officer Shadi Malak, CRCC representative Zhao Dianlong and NPC Managing Director Hamad Al Amri at a ceremony on December 18, attended by Etihad Rail Chairman HH Sheikh Theyab bin Mohamed bin Zayed and CRCC Vice-President Wang Wenzhong.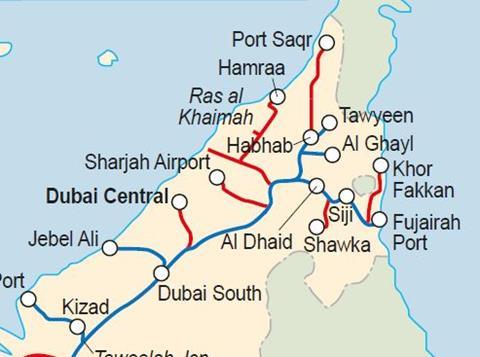 The northeast extension will require the construction of 15 tunnels through the Hajar mountains with a total length of 16 km, together with 35 overbridges and 32 underpasses.
Connecting the two east-facing ports to manufacturing, production and population centres, will enable the rail network to carry up to two million TEUs per year, helping to support international trade. Package D will also serve quarries in the northern Emirates, allowing up to 30 million tonnes of building materials to be moved by rail each year to distribution hubs in Abu Dhabi and Dubai. According to Etihad Rail, this should eliminate around 2 000 lorry trips per day from the region's roads.
Under its Stage Two expansion programme, aimed at developing a 1 200 km network, Etihad Rail had previously awarded three major design and build contracts. Package A was awarded to a joint venture between the China State Construction Engineering Corp and South Korea's SK Engineering & Construction, while Packages B and C went to a joint venture between CRCC and Ghantoot Transport & General Contracting Co.
'The awarding of this contract is a highly significant achievement as Etihad Rail follows its path to progressing one of the most important and economically strategic projects in the UAE', explained Sheikh Theyab. 'We continue to provide a safe, modern, and sustainable national railway network that meets the aspirations and expectations of our nation and its leaders, supporting the UAE's position as a major link in the regional and global supply chain, and as a key player in the logistics system.'
Read more about the Etihad Rail Stage Two expansion programme in the July 2019 issue of Railway Gazette International magazine.