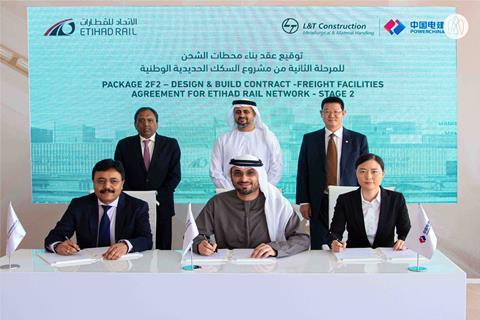 UAE: Etihad Rail has awarded a joint venture of L&T Construction and Power China International a 1·876bn dirham contract to design, build and commission seven freight handling facilities on Stage 2 of the national rail network.
The freight facilities will be built in Industrial City of Abu Dhabi, Khalifa Port, Dubai Industrial City, Jebel Ali Port, Al Ghayl, Siji and Fujairah Port.
This completes the contract award process for Stage 2, which will connect Fujairah and Khorfakkan on the east coast to the border with Saudi Arabia at Ghuweifat.
Indian company L&T said winning the contract against stiff international competition was a major breakthrough for its Metallurgical & Material Handling business.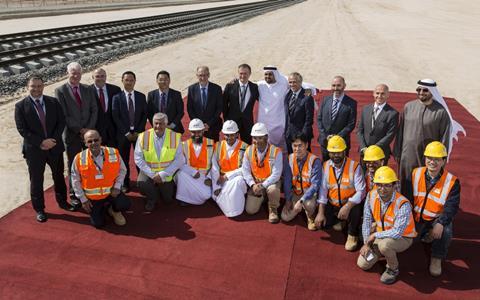 The contract was signed on January 29, when Chairman of Etihad Rail Sheikh Theyab bin Mohamed bin Zayed Al Nahyan formally launched construction of Stage 2 Package A, which covers the 139 km section of line connecting Stage 1 at Ruwais with Ghuweifat.
'We are witnessing a remarkable day for Etihad Rail as we witness the transition from planning and design to actual implementation of the project on the ground, following in the footsteps of our founding fathers as we implement one of the nation's most strategic projects, one that contributes to the economic development of the country by providing a safe, reliable and integrated alternative mode of transport', he said.
The freight facilities would promote the UAE's position as a global logistics hub and an active and key player in the field of logistics, he added.
Read more about the Etihad Rail Stage 2 expansion programme in the July 2019 issue of Railway Gazette International magazine.