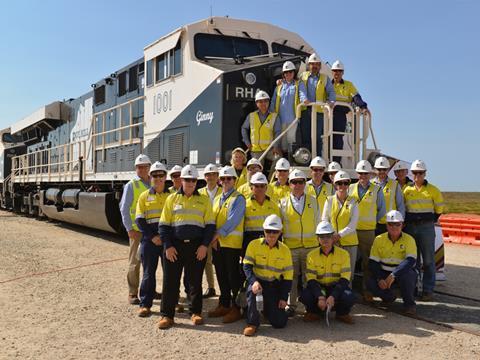 AUSTRALIA: The first of 21 GE Evolution Series locomotives ordered for the Roy Hill Iron Ore Project was named 'Ginny' by Roy Hill Holdings Chair Gina Rinehart in a ceremony at Port Hedland on March 23.
GE and its local partner UGL Ltd have delivered 14 of the 21 locomotives from Erie in the USA, with the rest scheduled to arrive by the end of 2016. The 4 400 hp ES44ACi locomotives feature a high-temperature cooling system to cope with temperatures up to 55°C in the Pilbara region.
'We had a range of requirements that needed to be met and after careful analysis of the locomotives available on the market we decided on the GE ES44Aci, which are the most technologically advanced heavy haul machines available', said Roy Hill CEO Barry Fitzgerald.
Three of the locomotives will be required to haul 232-wagon trains with a payload of 32 109 tonnes on the 344 km line from the mine to Port Hedland. Five trains/day are planned, and peak output is expected to reach 55 mtpa.
Roy Hill Holdings is owned by Hancock Prospecting (70%), Marubeni Corp (15%) POSCO (12·5%) and China Steel Corp (2·5%). The railway is being built by Samsung C&T as part of a A$5·9bn contract, with Ansaldo STS supplying satellite positioning-based train control and protection technology which could permit future autonomous operation under a A$151m contract.
Construction is now more than 76% complete, with the delivery of first ore on ship scheduled for September.