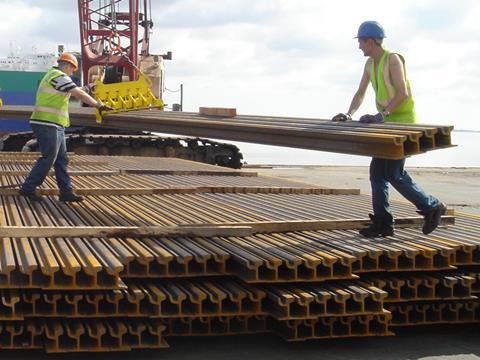 Australia: Lead contractor Samsung C&T has awarded subcontracts for construction of the 342 km heavy haul railway being developed as part of the Roy Hill Iron Ore Project. Calibre Group is to undertake detailed design, NRW has a A$620m contract for earthworks and John Holland a A$257m contract covering railway infrastructure.
Canada: London Trackwork has won a C$2·8m contract to supply specialist track components including turnouts for Vancouver's Evergreen Line metro project.
China: MTR Corp has awarded Thales a HK$642·5m contract to provide CBTC for the first phase of the Shatin – Central Link, including upgrading the Ma On Shan and West Rail lines for automatic operation.
Germany: Strukton is to provide contractors Züblin and Bilfinger with specialist underwater diving services for the pouring of concrete and canal works for construction of the S21 S-Bahn link to Berlin Hauptbahnhof.
India: Delhi Metro Rail Corp has awarded Bombardier a €47m contract to provide Cityflo 650 CBTC for driverless operation of the 58·4 km Line 7 scheduled to open in 2015-17.
Indonesia: A Tokyup/Wijaya Karya consortium has won a US$150m contract to build a 1·2 km section of Jakarta metro Phase 1 including a station and depot, and a US$102 contract covering 4·7 km and two stations.
Mozambique: WEGH is to manufacturer 1200000 concrete sleepers in Namialo for rehabilitating CFM's northern line.
Norway: Jernbaneverket has awarded a three-year technical consultancy framework contract for the Follobanen project to a consortium of Amberg Engineering, Multiconsult and Dr-Ing A Aas-Jacobsen.
Poland: Mota-Engil has won a 150m złoty contract to build a 1·4 km tram cut-off in Kraków, including a 600 m bridge over Paszów station. This will enable trams to avoid congested city centre streets, giving faster journey times. Seperately, Mott MacDonald is to study a tramway extension to Górka Narodowa.
Russia: Axion has won its first Russian order for Ecotrax plastic composite sleepers.
Saudi Arabia: Saudi Railways Organization has awarded DB International a 'mid double-digit million euro' contract to provide design review and supervision services for the Haramain High Speed Rail project.
The Riyadh Advanced Metro Project Execution & Delivery joint venture of Louis Berger and Hill International has won a US$264m project management contract covering lines 4, 5 and 6.
The Public Investment Fund has awarded Parsons Brinckerhoff and Fluor an eight-year contract to provide project management consultancy services for the Landbridge project.
Switzerland: SBB has awarded Siemens a €260m contract to continue to support and develop the
Iltis traffic management system until the end of 2025. The computer-based control and automation system is currently managed from more than 25 locations which are to be replaced by four regional centres by 2016.
Sweden: Trafikverket has awarded Strukton Rail a SKr20m contract to fit out the 6 km Citybanan line under construction beneath central Stockholm for completion in 2016. The contract covers ballastless track, signalling, electrification, power supplies, telecoms and fire alarms.
Thailand: General contractor CH Karnchang Public Co has awarded Alstom a €14m contract covering track, third rail power supplies and a depot for an extension of Bangkok's Sukhumvit Line.
Turkey: Comsa EMTE has been awarded a €20m contract to build Line 3 of Gaziantep's Gaziray tram network, including infrastructure, track, signalling and electrification and three substations for the 6·5 km double-track route with eight stops.
Uzbekistan: China Railway Tunnel Group has won a €342m contract to build a 19 km tunnel under the Kamchik Pass for a planned 129 km Angren – Pop line which would remove the need for trains to transit Tajikistan.