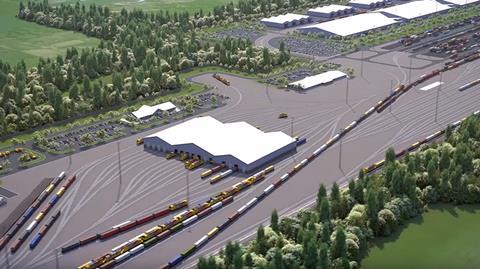 NEW ZEALAND: A master plan for a rail and road freight hub near Palmerston North was unveiled by Regional Economic Development Minister Shane Jones on November 26.
The proposed facility would replace an existing yard which is now surrounded by urban development.
It would include a container terminal, warehousing, handling facilities for bulk goods and forest products and a KiwiRail maintenance site. It would be designed to handle trains up to 1 500 m long, a 60% increase on current train lengths.
KiwiRail is now working with local stakeholders to identify suitable sites. This is being supported with NZ$40m from the government's Provincial Growth Fund to finance design work, land purchase and planning procedures.
Construction of the hub would be 'a major step forward in New Zealand's approach to freight', said KiwiRail Group CEO Greg Miller. 'It brings road and rail freight together in a much more integrated and seamless way, improving efficiency and saving in costs. The design allows for consumer imports and bulk exports to be managed at one place, and there is plenty of room to co-locate freight partners and meet their warehousing needs.'