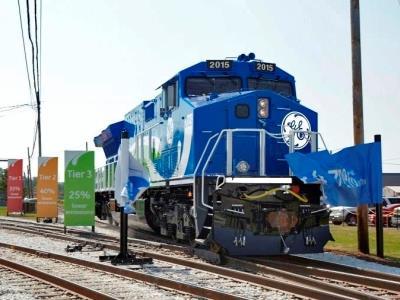 USA: In a ceremony at its plant in Erie, Pennsylvania, GE Transportation unveiled the prototype for its next generation of Evolution Series diesel locomotives on August 24. This is claimed to be the first to meet the Environmental Protection Agency's stringent Tier 4 emissions standards without needing a urea additive for selective catalytic reduction.
Coming into effect from January 2015, the Tier 4 standards call for the single largest reduction in diesel locomotive emissions under EPA's tiered programme. They will require a 70% reduction in particulate emissions and a 76% reduction in NOx, compared to engines introduced in 2005.
The company believes that a Tier 4 compliant engine which does not rely on SCR could save its customers 'more than $1·5bn in infrastructure and operational costs' by avoiding the need for urea handling facilities. Its solution works by managing the engine operating temperature carefully to limit the production of NOx whilst not generating excessive CO2.
According to GE Transportation, the development has required investment of more than $600m, with an initial $400m spent over six years to develop the Evolution Series engine technology, 'followed by a two-year, $200m investment to hone the research, design and engineering to meet Tier 4 standards'.
President & CEO Lorenzo Simonelli said 'GE Transportation continues to challenge what is possible. Thanks to the tireless efforts of our employees and the collaboration with our customers, we are the first in the industry to offer a solution that meets the next phase of the EPA's emissions standards.'
The company says that more than 5 000 Evolution Series locomotives are now in operation around the world. Tier 4-compliant locomotives will be assembled 'at one or both' of its US locomotive plants in Erie and Fort Worth, Texas, using diesel engines manufactured at Grove City, Pennsylvania.