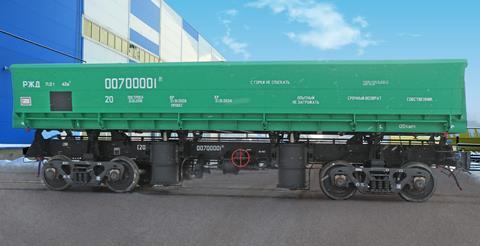 KAZAKHSTAN: Gold and silver producer Polymetal has awarded United Wagon Co a contract to supply 55 side-tipping wagons to its Varvara site by the end of the first half of 2020.
The Varvara opencast mine and processing plant is located in northwest Kazakhstan, 130 km southwest of Kostanay and 4 km from the Russian border. It has a 13 km railway which was built by Polymetal to transport bulk ore to the processing plant, and a 15 km connection to the national railway network.
The Type 32-6982 wagons ordered from UWC will be used to transport overburden and hard rock from the mine.
They will have a capacity of 71 tonnes or 42 m3, which UWC said is up to 10 tonnes more than competing designs, with a shock-absorbing floor to prevent damage during loading and unloading. The pneumatic mechanism will be able to tip the body 45° to either side with simultaneously opening for discharge, and then return the body to the upright position for transport. The Type 18-9855 bogies have a 25 tonne axleload.
The wagons are designed for a 32 year life cycle; according to UWC, this is 10 years more than a standard wagon.
Managing Director of Polymetal's Varvara site Igor Nikolishin said the plant was operating at its full capacity, and had to meet strict time and sequence requirements. 'The nature of our business means working with large and heavy rocks and so, when choosing a wagon supplier we focus on technical specifications and reliability', he said.