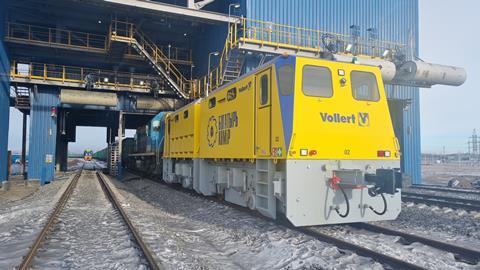 KAZAKHSTAN: German shunting equipment specialist Vollert has supplied five twin-section DER 300 diesel-electric automated robots for moving 1 km long trains of up to 6 900 tonnes through loading equipment at the Bogatyr open-cast coal mine in Ekibastuz.
As part of a programme to expand production capacity from 32 to 40 mtpa, ThyssenKrupp worked with the mining company to build an automated loading station which takes 3 to 4 h to fill two 70-wagon trains in parallel.
The trains are moved by the Vollert shunters, which have control and engine sections with the CAT engines producing an output of 180 kW. They have six axles, a service weight of 150 tonnes and traction force of 300 kN.
The are designed to cope with temperatures from -30°C to +30°C, including 30°C fluctuations over a day, with heated components, a diesel tank integrated into the frame, automatic couplings and a sanding system.
Operations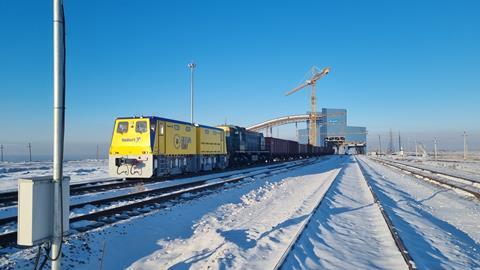 Vollert used Siemens components to build a wi-fi route for data transmission and control along the 1·3 km long shunting tracks.
The shunting machine stops automatically in its defined position, where the operator hands over remote control to staff in the loading building. The machine is then coupled to the empty train and its main line haulage locomotive, and moves it to place the first wagon under the loading chute.
Coal is conveyed into the wagons continually, completing the process of loading in no more than 3 h. The main line locomotive then hauls the train away, while the robot moves on the next train.
The control system permits free operation of all five robots on all four tracks.
Delivery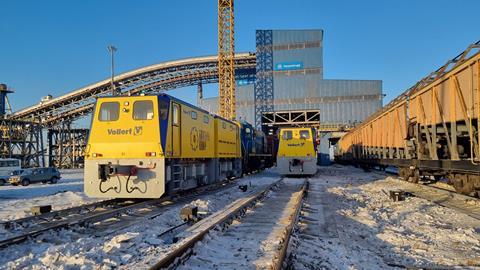 The project is the largest single order for Vollert's shunting systems.
The shunters were delivered 6 000 km from Germany to Ekibastuz. Heavy-duty low-loaders carried the 10 sections by road to Kiel, from where they travelled by sea to Lithuania and then by train to Kazakhstan.
Operation began in December 2022, with full operation planned for mid-2023. The machines are equipped for remote maintenance, with first level support from Germany.