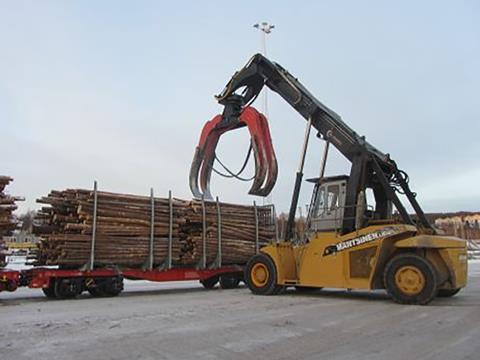 SWEDEN: Innofreight has handed over the first of 144 wagons which are being supplied under the Austrian company's largest order to date. These are to be used from July on a 10-year timber haulage contract awarded to Hector Rail by forest products company SCA Skog, which will be the first commercial use of InnoWaggons for round wood.
The wagons feature high-strength posts designed for the Swedish loading gauge, which along with their light weight make it possible to increase the payload.
'Innofreight's InnoWaggon defines new standards in the transportation of round wood in Scandinavia', said SCA Skog's Logistics Manager Lars Nolander at the handover of the first wagon in Östrand. 'The load has been increased by 25% to 30% per block train and this allows us to lower our logistics costs in the long term. Innofreight's robust post systems reduce maintenance costs significantly in comparison with the ExTe posts that have been employed so far.'
One of the wagons is to be displayed at the Transport Logistic trade fair in München in May. Later this year Innofreight plans to launch other types of wagon with various post superstructures for carrying short and long wood.