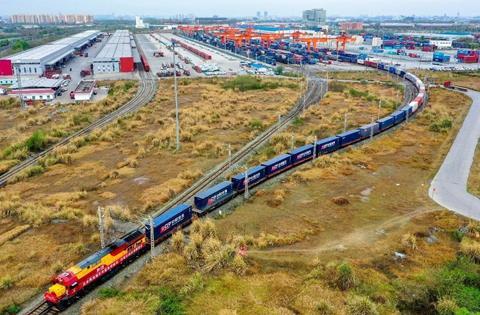 CHINA: The launch of rail freight services linking the Chengdu International Railway Port to destinations across Asia and Europe has helped the Qingbaijiang district of the city achieve 'outstanding' economic development, the local authority reports. Meanwhile the city of Wuhan has further expanded the range of European destinations served by rail.
Opening up the inland regions
The China-Europe (Chengdu) Railway Express services launched in 2013 have put Chengdu 'at the forefront of opening up among the country's inland regions', Qingbaijiang district said. The city now has freight connections with Europe, Mongolia, Russia, Japan, South Korea and southeast Asia. Last year goods worth 150·7bn yuan were transported from the rail port to destinations within and beyond China, strongly boosting foreign trade in Sichuan province.
Trains have run to 20 cities in China and 65 abroad, with destinations including Łódź in Poland and Nürnberg in Germany.
More than 2 800 trains were dispatched in the first half this year. Home appliance producer TCL Technology Group has transferred part of its production capacity to Chengdu so it can send products to Europe by rail, and last year it chartered an average of two trains a week to Europe, sending more than 4 000 containers.
Changhong Group has chartered four trains to Europe so far this year, carrying home appliances such as refrigerators and LCD television components, and plans to maintain a frequency of one or two trains a month.
In June Konka Group sent its first shipment of television sets to Europe by rail, with more than 200 000 units with a value of more than 100m yuan expcted to be dispatched in the second half of the year.
Hubei opens wider to the world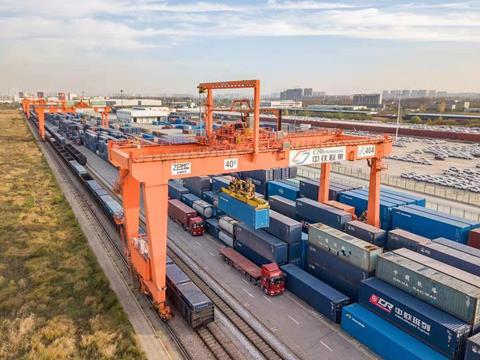 Meanwhile, the Wuhan Airport Economic & Technological Development Zone reports that the 10 000th train has been dispatched to Duisburg in Germany, a route launched seven years ago. This has become 'an important window for Hubei to open wider to the world', and has helped to develop the province's exports.
Customs clearance processes have been streamlined, and four new services to Europe have been added this year, with 192 trains and 18 144 TEU delivered by the cross-border freight trains in the first seven months of 2021.
3D printer manufacturer Creality used to export products by sea through Shenzhen, but now uses rail. Imports by rail to Wuhan included French wines and high-quality milk from Belarus.