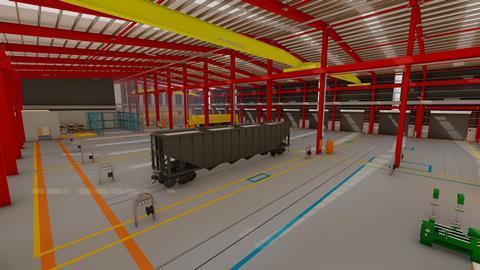 NEW ZEALAND: The redevelopment of KiwiRail's Hillside workshops to create a wagon assembly facility is to begin this year, following the confirmation of NZ$85m of government funding from the national budget.
The Dunedin works had been run down after 2012, although some capability was retained as an overflow for the railway's Hutt workshops near Wellington. The government announced in October 2019 that the business would be reactivated, approving an initial NZ$20m allocation through the Provincial Growth Fund.
The latest tranche of funding will allow the development of a new mechanical workshop where up to 20 locomotives or wagons can be worked on, an assembly facility with a capacity of two wagons/day, and shared offices and workshops for track maintenance and signals staff. Equipment will include a traverser, heavy lift cranes and jacks, and electric shunters.
Site clearance will begin this year, with the new workshops expected to be operational by mid to late 2023. KiwiRail expects to assemble at least 1 500 vehicles at the site over three years.
'Wagon assembly means KiwiRail will take on 45 staff for new roles in producing wagons, instead of importing them fully assembled', explained Group Chief Executive Greg Miller on May 25. 'Having mechanical and wagon assembly together also creates synergies by being able to share some infrastructure and to grow skills. Once we're producing wagons here, it will be a strength to the company to have the very people who assembled them, still here to service and maintain them.'