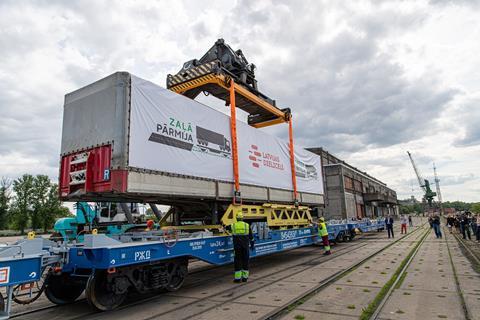 LATVIA: National railway Latvijas Dzelzceļš has launched what it says is its first piggyback intermodal service carrying semitrailers with the aim of capturing a greater share of the freight market for shipments heading to western Europe.
Branded GreenSwitch, the service is intended to support modal shift to rail and minimise the pollution and other external costs of heavy lorry movements across the country's road network. The railway believes that logistics providers will select a rail option to offset the cost of road tolls and other charges for road hauliers.
LDz is giving shippers the chance to shorten or eliminate their road hauls by transferring semitrailers by rail, avoiding the need to deploy a driver or tractor unit. Loads would be collected from their point of origin or a nearby terminal and moved by Green Switch to LDz's dedicated intermodal hubs at the ports of Liepāja or Ventspils. From there, they would be loaded onto a Stena Line ferry for onward movement to destinations in Germany or Scandinavia.
'In recent years, there has been really fierce competition between transit corridors and freight carriers', said LDz Chairman Māris Kleinbergs. 'Factors such as speed, predictability, resource efficiency and environmental compliance are playing an increasingly important role in cargo owners' decisions on the optimal mode of transport.
'The new LDz offer — regular movement of semitrailer trucks by rail — will indeed serve as a kind of green transition, and freight transport in Latvia will become more environmentally-friendly, road traffic volumes will be reduced significantly, and cargo owners will be able to capitalise on unprecedented opportunities.'