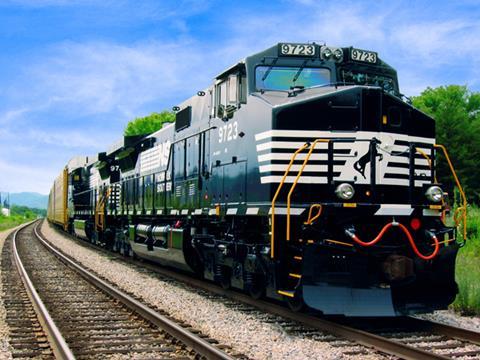 USA: Norfolk Southern Corp announced details of a strategic plan to become a 'faster, lower cost and more profitable railroad' on January 27, saying it expects to achieve annual productivity savings of $130m in 2016 and more than $650m by 2020.
The plan is the result of a six-month evaluation of the company's business model led by Chairman, President & CEO James A Squires.
The package may assist NS in fending off repeated approaches from Canadian Pacific, which announced in November that it believed a merger could create 'significant shareholder value.'
NS expects to achieve an operating ratio below 70 in 2016 and less than 65 by 2020, predicting double digit annual earnings per share growth, increased return on equity and higher return of capital. Revenue growth, resource optimisation and expense reduction measures to be implemented by 2020 include:
$420m in annual savings by reducing the number of employees by 2 000, particularly in areas affected by lower coal traffic, with overtime to be reduced by 50% from 2015 levels. Operating regions are being reduced from three to two with the merger of the Virginia and Pocahontas divisions, and NS will halt or reduce operations at several hump or secondary yards, consolidating traffic on fewer, larger trains.
Disposal or downgrading of 2 400 km of secondary lines, with traffic diverted onto higher-density routes. Some parts of the system may be 'more economically operated in collaboration with short line rail carriers'.
$70m of annual savings from reducing the size of the wagon fleet and the use of third-party yards and trackage and haulage payments.
Replacing older locomotives with more reliable modern ones, reducing the fleet by 300 in 2016 and another 100 units by 2020 and continuing the six-axle rebuild strategy, which includes conversion from DC to AC traction motors.
Cutting fuel consumption by $80m/year through the smaller fleet and the implementation of energy management technology.
'We believe we have the right strategic plan to streamline operations, accelerate growth and enhance value for shareholders', said Squires. 'The plan leverages our core competencies in customer service and reliability, while also improving network efficiency and consolidating operations. Importantly, through disciplined cost control, we believe we can achieve the productivity savings outlined in this plan, and even more.'