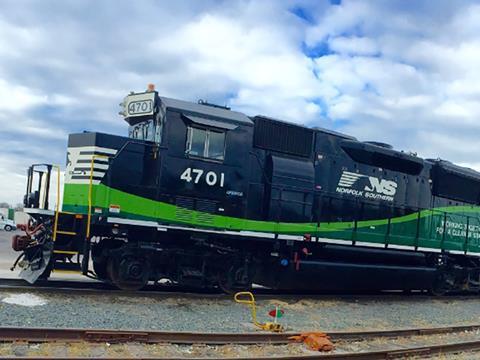 USA: Government officials joined Norfolk Southern at 47th Street intermodal yard in Chicago on November 5 to inaugurate a fleet of remanufactured low-emission diesel shunting locomotives.
Intended to offer cut particulate emissions by 76% and reduce NOx pollutants, the GP33ECO locomotives are remanufactured from EMD GP50 locomotives repowered with Tier 3 compliant EMD 12-710 ECO engines rated at 3 000hp. The $30m project is being undertaken at Norfolk Southern's Juniata Locomotive Shop in Altoona, Pennsylvania, supported by $19m from the federal Congestion Mitigation & Air Quality Improvement Program.
Of the initial 25 locomotives, 10 are now in use in Atlanta, and 15 are to enter service at five yards in Chicago by the end of the year. Three of these will be paired with engineless 'slugs' which have traction motors powered from the mother locomotive. Plug-in engine heating systems will reduce idling.
'These locomotives will be rolling billboards in Chicago for years to come of one of the finest examples of collaboration between public and private partners to think and act big on diesel emission reduction technology' said NS Vice-President, Mechanical, Don Graab.
NS plans to use additional CMAQ grants to deploy a further three locomotives at its Macon and Rome yards in Georgia next year.