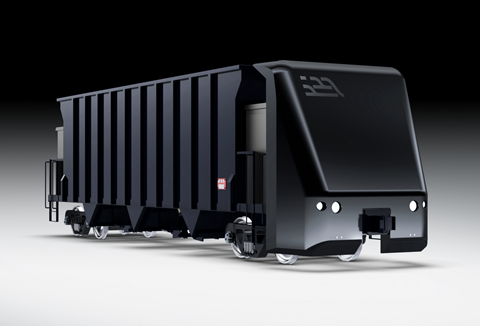 USA: 'We envision a future in which freight can move itself without waiting for a locomotive, making the system more efficient and environmentally friendly', says Tim Luchini, co-founder and CEO of Intramotev which is developing a prototype self-powered autonomous wagon. The aim is to facilitate the efficient operation of frequent and zero-emission driverless train services, to make rail freight more competitive with road on routes of 1 000 to 1 500 km.
A battery-powered demonstrator vehicle and 'intelligent' self-navigating software is under development in St Louis, Missouri for completion in Q2 2022. It is envisaged that the autonomous wagons would be able to haul conventional freight cars between customer sites, with automated or remotely controlled shunting on arrival.
The plans include a flat wagon and a hopper wagon. The company sees potential applications on mining railways and at industrial sites, especially in isolated locations, and there could be opportunities in the European market, where distances are generally shorter.
Luchini told Railway Gazette International that battery technology is now mature enough to enable viable payloads, no special infrastructure would be required other than battery charging equipment, and a gradual conversion from conventional locomotive-hauled operation would be possible.
Freight competition
Intramotev started by looking at how outside technology could be applied to rail freight, which Luchini said is very competitive in the North American long haul market, but faces strong competition over shorter distances.
Future automation of road transport could pose a competitive threat, he said, and so enhancing rail's ability to operate shorter but more frequent services economically could create opportunities to win traffic in the local and just-in-time logistics markets.
Pointing to the current shortage of lorry drivers in the USA and delays in getting imported goods out of west coast ports, he added that 'the current supply chain crisis demonstrates the need for technologies which can increase the capacity of existing freight infrastructure'.
Co-founder and Chief Operating Officer Alex Peiffer added that 'anything we can do to get trucks off the roads is better for road traffic, decarbonisation and for society'.
Investment and expertise
Early stage venture capital fund Idealab X announced an investment in Intramotev on November 4. Luchini said this would provide 'substantial resources' for the 'groundbreaking' project, as well Idealab X experience of funding companies that are 'solving important problems'.
Allen Morgan, co-founder of Idealab X, explained that 'Intramotev is a nice fit with the other Clean Tech companies in our Idealab X portfolio — Energy Vault, Heliogen, Flowing Energy and Carbon Capture — who are all doing their part to reduce the amount of carbon in our atmosphere.
Casey Cathcart, founder and CEO of freight services group Cathcart Rail, has also joined the programme as a strategic adviser providing rail expertise.
'The technology is a revolutionary approach to streamlining in-plant and captive service rail operations, and quite possibly the broader rail network in the future', he said. 'Fundamentally, it aligns with, and should improve, precision scheduled railroading methodologies of timed dispatching and delivery reliability.'