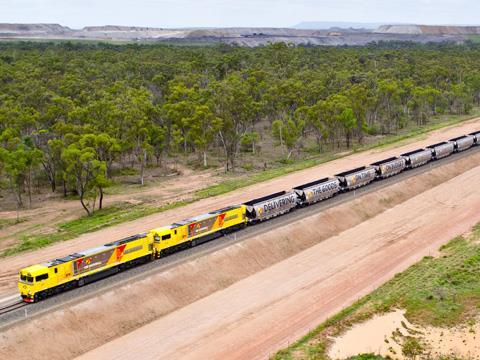 AUSTRALIA: The Queensland government is to reduce its stake in rail freight operator QR National from 34% to 16%, state Treasurer Tim Nicholls announced on October 8. The state had retained a one-third interest when the business was floated in November 2010.
Responding to proposals presented by UBS, Nicholls said the government would sell 432·3 million shares for A$1·5bn. Of these, shares worth A$500m would be sold to a small number of cornerstone investors and the remainder bought back by QR National, which is currently preparing to rebrand as Aurizon.
The company is reported to have A$3bn in debt available for investment, of which only A$900m had been drawn down. As the buyback must be approved by its existing shareholders, QR National has postponed its annual meeting from November 7 to November 21 in order to give them more time to consider the proposal.
Although the current state government had opposed the previous Bligh administration's privatisation of QR National, Nicholls said it now had an 'obligation to Queenslanders' to achieve the best possible outcome from the situation it had inherited.
QR National was floated at A$2·45 a share, but was trading at A$3·42 last week. Nicholls said the agreed sale price of A$3·47 was better than the recent average, but the shares jumped by 5% to nearly A$3·65 following the announcement.
The sale still leaves the state government with a significant stake in QR National, holding 389·2 million shares valued at around A$1·35bn. Nicholls said the government had no 'current intention' to sell its remaining shares in the near future.