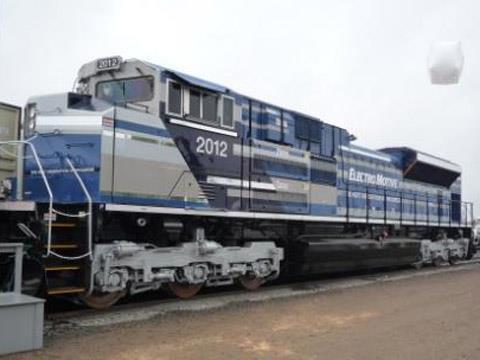 USA: The introduction of EPA Tier 3 emissions standards for main line locomotives in January 2012 was clearly reflected in the variety of motive power on show at the Railway Interchange 2011 outdoor exhibition at CP's Humbolt Yard in Minneapolis on September 18-20.
Progress Rail Services was showing a purpose-built Tier 3 compliant version of the successful EMD SD70Ace locomotive, equipped with a modified 710G engine to meet the new regulations. It is also fitted with PTC onboard equipment and cab displays, with Progress saying most are now being delivered PTC-ready.
Progress Rail was also showing one of five PR30C demonstrators being used to meet the much stricter Tier 4 standards due to come into force in 2015. A rebuilt SD40-2, PRCX 3004 has been fitted with a Caterpillar 3516 engine, selective catalytic reduction exhaust cleaning equipment and a Zeit control system. The locomotive has recently been running with UP in California to achieve certification under the state's air quality regulations, and is now embarking on a further test programme to obtain full EPA certification. Progress has recently won an order to supply four Tier 4 compliant four-axle locos to an unspecified customer.
GE Transportation was showing one of its latest ES44AC locomotives, delivered to Union Pacific in August. The company has 15 pre-production Tier 3 compliant locomotives in test service with BNSF, but is still supplying Tier 2 units at present. It expects to switch to Tier 3 production in November ready for first deliveries in January. The company is also working towards Tier 4, which it says will be 'a significant challenge'.
Meanwhile, genset specialists NREC and RJ Corman Railpower both had examples of two and three engined shunting locomotives on display at Humbolt Yard. Most of these 2000 hp units are aimed at yard shunting and short haul operation.
Railpower's show locomotive had three Deutz powerpacks, but the company confirmed that it is developing a four-engined unit with Cummins engines. Rated at 3 000 hp, this is due to roll out before the end of the year and will be used on a regular heavy duty cycle on one of RJ Corman's regional rail operations.