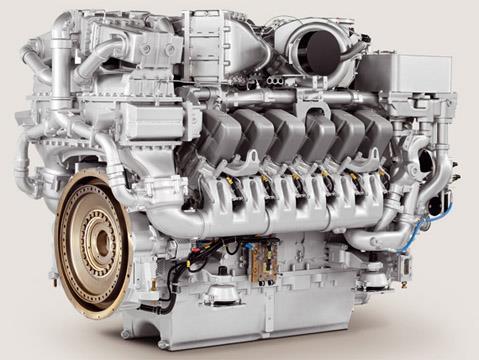 EUROPE: A year of in-service testing has begun with DB Schenker locomotive No 225 008-2 which has been fitted with a MTU Series 4000 engine as part of the EU-backed Clean European Rail-Diesel research project.
MTU says the 1·8 MW 12V4000R84 design is the first engine for rail traction to comply with Stage IIIB emissions standards coming into force in 2012, thanks to exhaust recirculation and two-stage turbocharging. A proportion of the exhaust is cooled and fed back into the intake air supply, reducing NOx emissions to 3·5 g/kWh; a catalytic converter is therefore not required. A regulated two-stage turbocharging system incorporating three separate MTU turbochargers ensures sufficient fresh intake air even at 25% exhaust recirculation, which could be increased to 50% according to Dr Dirk Bergmann, who is leading the project at MTU.
Voith is providing transmission and cooling system support for the trial, SNCF expertise on particle filters and the APTL/CERTH laboratory will conduct measurements. The results of the CleaneER-D project will provide the EU with recommendations for possible Stage IV legislation.
'We have to find the middle ground between what makes sense for the environment and what is economically viable', said Bergmann. 'Trucking companies pay lower highway usage levies if they fit their vehicles with more eco-friendly engines, and there should be similar incentives on the railways'.