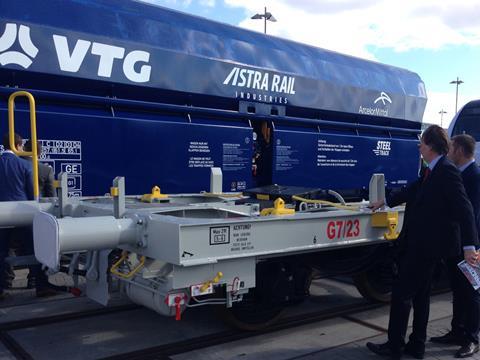 EUROPE: German wagon leasing and logistics company VTG AG announced on September 29 that it had agreed terms to acquire Swiss leasing company Ahaus Alstätter Eisenbahn Holding AG, in order to strengthen its position as the 'largest private wagon hire company in Europe'. Subject to approval by the competition authorities, the transaction is expected to be completed in the first half of 2015.
AAE operates a fleet of around 30 000 wagons, which is primarily focused on the intermodal market. VTG initially specialised in tank wagons, but has subsequently expanded into other sectors including rail logistics. AAE is currently active in 24 countries across Europe, including Russia, and has an average fleet age of around 15 years. By comparison, the age of the 50 000-strong VTG fleet averages 23 years.
The company says the acquisition 'rounds off VTG's wagon and service range in Europe and closes a vital gap in its product portfolio', noting that demand for intermodal transport is expected to double by 2030. It will also bring a significant increase in revenue, with EBITDA expected to increase by more than 75%.
The acquisition is to be funded through a mix of €15m in cash, a €230m vendor loan note and the issuing of additional shares. AAE owner Andreas Goer will take 7·4 million of the new VTG shares to hold a 26% stake in the combined business, but says he does not intend to seek control of the company. VTG will also pay an extra €3m if 'certain conditions' are met.
'Acquiring AAE represents a major strategic step forward', said VTG CEO Dr Heiko Fischer, adding that the merger 'will lead to the establishment of the only single-source provider of all essential wagon segments for rail freight transport throughout Europe'.
Goer described VTG as 'an innovative, strategically-driven company with clear direction for a long time', explaining that he was 'delighted to see my family's life's work in such capable and reliable hands, and to continue to accompany the common enterprise on its journey into the future'.
Based at Baar in Switzerland, AAE had a turnover of around €200m in 2013, and total debts of around €890m. The company recently parted company with its former CEO, citing a difference of opinion over the future direction for the business.