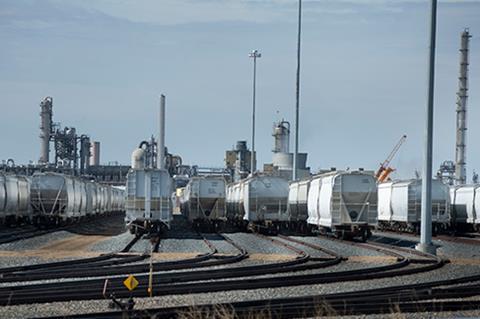 NORTH AMERICA: Chemical producer Dow has signed a definitive agreement to sell the rail infrastructure assets and related equipment at six of its US and Canadian sites to shortline group Watco.
This includes all Dow-owned tracks and associated infrastructure at the Plaquemine and St Charles sites in Louisiana, Freeport and Seadrift sites in Texas, and Prentiss and Fort Saskatchewan sites in Alberta.
There will be a long-term agreement for the provision of rail services including shunting, wagon washing and track maintenance, with Dow expecting Watco's rail expertise to provide 'additional operational efficiencies and opportunities for growth over time.'
Watco CEO Dan Smith said the group was 'excited to serve Dow and honoured to acquire these incredible assets', in a transaction which 'represents a revolutionary approach to industrial in-plant rail operations'.
The deal announced on July 6 is expected to close in Q4 2020, subject to customary closing conditions. It will see 14 Dow employees transition to Watco, along with the management of approximately 400 contract workers. Dow expects to receive cash proceeds in excess of $310m.
'Today's announcement is part of an on-going review of our ownership of non-product producing assets and is driven by our commitment to apply a best-owner mindset to everything we do', said Dow Chairman & CEO Jim Fitterling. 'The transaction will liberate cash from our balance sheet that we will use to pay down debt and invest in our core value-generating businesses.'
Goldman Sachs acted as financial advisor to Dow, and Mayer Brown & Thompson Hine provided legal support.
Watco is backed by Oaktree Capital Management's transport infrastructure fund, which has been an investor in the company since December 2018.