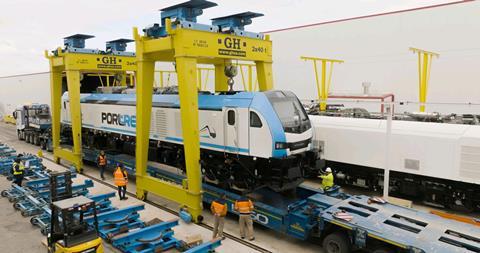 Stadler Valencia has completed the first three of seven Euro 4001 diesel locomotives for use by Portren on cellulose trains in the Ferrocarril Central corridor running north from Montevideo. The locos are due to be shipped to Uruguay by the end of April.
'We need to connect the Baltic and Black seas via transport corridors with sufficient capacity, to transform the current rail connections from Klaipėda seaport to Odesa and other Ukrainian ports into a European gauge TEN-T corridor', said Lithuania's Deputy Minister of Transport & Communications Loreta Maskaliovienė at a meeting between Lithuanian and Ukrainian parliamentarians in Lviv on March 2-4. 'Such a corridor, bypassing Belarus and Russia, is important not only for Lithuania, but also for other Baltic States in order to effectively employ their seaports and reach southern Europe.' A 1 435 mm gauge route to Klaipėda was included in memorandum signed by the ministers of transport of Lithuania and Poland in September 2022, and the other Baltic States joined the programme in January.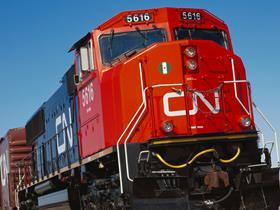 Montréal-based Canadian National has registered with the Office Québécois De La Langue Française pursuant to the Act Respecting French, the Official & Common Language of Québec, which came into force in 2022. CN began discussions with OQLF to voluntarily register as it is 'in a unique situation' by also being subject to the federal Official Languages Act under its incorporating act. 'This registration by a large federally chartered company is very important for Québec and its French reality', said Jean-François Roberge, Québec's Minister of the French Language, on March 16. 'I strongly hope that this step by CN will encourage the few remaining companies to do the same and comply. We must all take strong actions for the French language.'
Russian Railways' Federal Freight Co subsidiary has announced a rolling stock investment programme worth up to 21bn roubles. This includes ordering at least 5 000 Type 13-192-01 flat wagons from Uralvagonzavod at a budgeted cost of 4·2m roubles each, which would enable the withdrawal of its older flat wagons from 2024.
Canadian Pacific has said that it will 'exercise the authority granted by the Surface Transportation Board's March 15 final decision and combine with Kansas City Southern to create Canadian Pacific Kansas City' on April 14. CP President & CEO Keith Creel will take on the same role at CPKC, while on March 17 CP said it expected to appoint Nadeem Velani as CPKC's Executive Vice-President & Chief Financial Officer; John Brooks, Executive Vice-President & Chief Marketing Officer; Mark Redd, Executive Vice-President & Chief Operating Officer; and John Orr, Executive Vice-President & Chief Transformation Officer.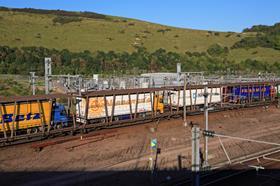 After several months of trials, Eurotunnel has launched First, a subscription-based premium service offering priority access to check-in lanes, boarding lanes and to customs, plant and animal control centres for its ross-Channel lorry carrying services. 'This new commercial proposition is an answer to the increasing demand for speed and fluidity from our customers and strengthens Eurotunnel Le Shuttle Freight's leadership in the cross-Channel market', said Deborah Merrens, Chief Commercial Officer.
The US Surface Transportation Board has approved Montana Rail Link's petition to hand back its long-term lease from BNSF of the former Northern Pacific main line through southern Montana. The east-west route between Huntley, Montana, and Sandpoint, Idaho, had been leased to MRL for 60 years by BNSF predecessor Burlington Northern, which concentrated its operations on the former Great Northern main line further north. However, BNSF today accounts for around 90% of the traffic routed along the corridor.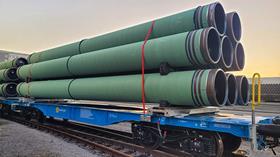 InnoFreight rapidly developed a HighPerformanceBase floor structure to support the launch of a DB Cargo block train service carrying 20 sections of pipe between Mühlheim an der Ruhr and the port of Brake on behalf of customer Europipe. The HighPerformanceBase allows a payload of two to four additional pipes per wagon and increases the loading capacity per vehicle by a third. Four bases can be installed on one InnoWaggon. The initial enquiry was in August 2022, and the first 80 bases were handed over at the end of January.
Catherine Livingstone has been appointed as independent chair of the board of Australian freight operator Pacific National.