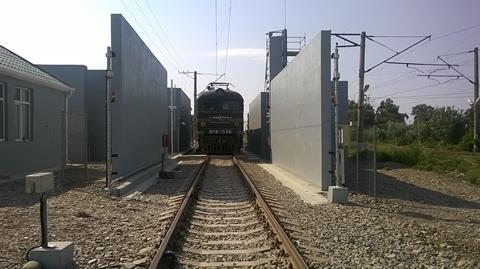 USA: The Department of Homeland Security's Customs & Border Protection agency has awarded Smiths Detection a framework contract for the supply of X-ray scanners for use at railway checkpoints on the borders with Canada and Mexico.
The side-view high-energy X-ray inspection scanners will be used to screen trains for dangerous or illegal cargo, with the ability to monitor single or double-stacked containers passing at speeds up to 30 km/h.
The manufacturer says its HCVT scanner can cover up to 300 containers in 10 min, with the ability to see through 300 mm of steel when a train is travelling at an optimal speed of 15 km/h.
The scanners can also be connected with customs networks to enable remote analysis, image comparison and knowledge sharing among security agencies.
The initial order value under the contract announced on September 3 is worth $13·5m, with deliveries planned to begin in 2021. Future orders could take the total value to $379m over five years, and there is an option for a further five years.
'HCVT gives US Customs & Border Protection officers 24/7 capabilities to intercept dangerous goods and contraband transported throughout the US by rail', said Shan Hood, President of Smiths Detection Inc. 'Equipping CBP with HCVT technology is key in making the delivery of freight safer while allowing the logistical chain to keep moving.'