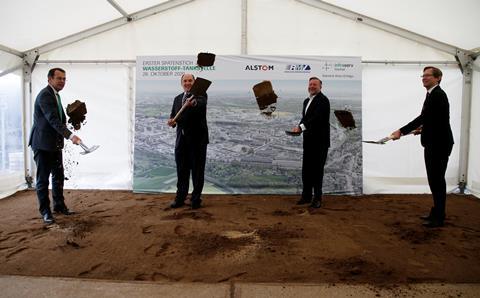 GERMANY: Industrial park operator Infraserv Höchst began construction of a hydrogen train refuelling point at its site in Hessen with a groundbreaking ceremony on October 26.
The facility in Höchst will support the fleet of 27 Alstom Coradia iLint multiple-units ordered by the Fahma rolling stock subsidiary of Rhein-Main transport authority RMV in May 2019.
'With Alstom's fuel cell trains, we are opening up a new chapter of emission-free mobility', said RMV Managing Director Prof Knut Ringat at the ceremony. 'With the 27 vehicles, we are setting a world record: nowhere else is there such a large fuel cell fleet for local public transport.'
The iLints are scheduled to enter service from December 2022 on services RB11 Frankfurt-Höchst – Bad Soden, RB12 Frankfurt – Königstein, RB15 Frankfurt – Bad Homburg – Brandoberndorf and RB16 Friedrichsdorf – Friedberg.
'Hessen is a pacemaker on the way to climate and environmentally friendly mobility', said Jens Deutschendorf, State Secretary at the Land's Ministry of Economics, Energy, Transport & Housing. 'In 2022, pollutant-free fuel cell trains will replace the old diesel vehicles. Electric operation without overhead lines could also be an interesting alternative for other regions.'