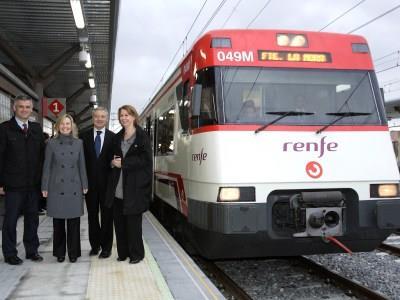 SPAIN: Development Minister José Blanco joined Esperanza Aguirre, President of the Madrid regional government, to open a station at Fuente de la Mora on March 24.
Now forming northwestern the terminus for routes C7 and C10 of RENFE's Madrid suburban network, the new station has been built as part of the project to provide a rail link between Chamartín and Terminal T4 at Barajas airport. This link is expected to open before the end of 2011 according to Blanco.
The €45m project has involved quadrupling a 4∙1 km section of the double-track ring route connecting Chamartín with the Madrid – Barcelona main line at San Fernando, as well as remodelling to enable suburban services to reverse at Hortaleza rather than at Chamartín. The upgraded ring line will also form part of a new route between Chamartín and Torrejón de Ardoz. Interchange is provided at Fuente de la Mora with light metro Line 1.
Madrid's conventional metro network is due to grow again on March 28 with the opening at 15.00 of the short extension of Line 9 from Herrera Oria to Mirasierra in the northwest of the city. Aguirre said on March 24 that work would begin shortly on the second phase of this project, taking Line 9 to a new RENFE suburban station at Costa Brava between Pitis and Ramón y Cajal.