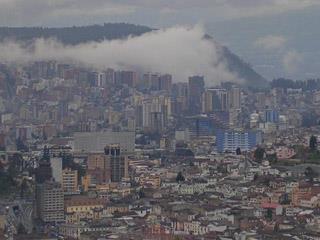 ECUADOR: The Inter-American Development Bank announced on December 5 that it had approved a US$200m loan to fund construction of Quito's first metro line, due to be completed in 2016.
The mass transit system is expected to generate savings of $68m through shorter journey times, lower transport operating costs and improved road safety, as well as cutting emissions.
The new metro 'will be a fast, efficient way to transport around 360 000 people every day to their destinations along the 23 km of the first line', said IBD Project Team Leader Rafael Acevedo-Dunas. 'It will connect with other public transportation hubs to cut travel time and congestion, resulting in a significant increase in the quality of life of its citizens'.
In addition, the European Investment Bank is lending €200m for the project under an agreement signed on November 29 by EIB Vice-President Magdalena Álvarez Arza and William Vásconez, Undersecretary for Public Finances at Ecuador's Ministry of Finance. According to Álvarez Arza, projects such as the Quito metro are top priorities for EIB 'because they help us meet our goal of promoting integrated and sustainable cities and communities that ultimately improve people's quality of life'.
Spanish contractor Acciona has been awarded the first construction contract, worth €50·2m and covering two stations that include major transport interchanges. Work at La Magdalena was expected to begin around the end of 2012 and at El Labrador in March 2013. Tendering is underway for tunnelling and the supply of 18 six-car trainsets, expected to cost €1·16bn.