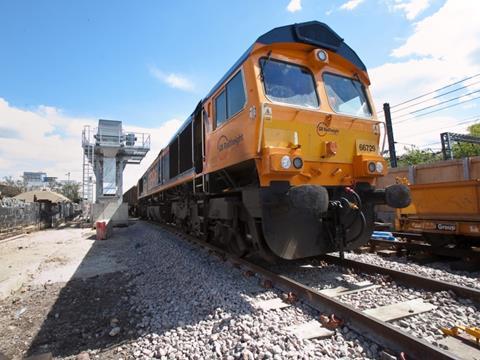 UK: Eurotunnel subsidiary GB Railfreight announced on September 3 that it had ordered a further eight Class 66 locomotives from Electro-Motive Diesel Inc. The manufacture and supply agreement was signed at Rannoch station on the route between Glasgow and Fort William by GB Railfreight Managing Director John Smith and Paul Denton, Senior Vice-President of International Sales at EMD's parent company Progress Rail.
'GB Railfreight continues to go from strength to strength and this new purchase is a significant step by the company to ensure we meet current and future demand for our services', said Smith. 'As demand for rail freight continues to exceed expectations, we need to make sure we have the locomotives to move the freight and the right infrastructure to service this demand'.
Due to be delivered in August 2014, the new locomotives are to be deployed to haul biomass for the electricity generation industry as well as infrastructure materials for Network Rail. They will take the GB Railfreight Class 66 fleet to 58 units, including three locomotives formerly deployed in the Netherlands which have been approved for operation by the Office of Rail Regulation following conversion by EMD's UK subsidiary.