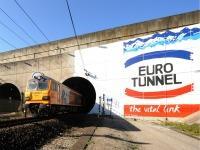 UK: Eurotunnel announced on December 1 that its Europorte Channel subsidiary had been granted approval to operate its fleet of Class 92 locomotives on High Speed 1. Driver training is now in progress with the expectation that commercial freight services will be launched early in 2012.
Europorte Channel currently operates a fleet of 11 Class 92s to haul freight trains through the Channel Tunnel. Clearance for use on HS1, able to accommodate standard European wagons and swap bodies, opens the prospect of only one locomotive change on international services between Britain and Europe, given that the Class 92 is already approved for operation on Network Rail, but not on the RFF network in France.
'This is very good news for the future of rail freight in the UK and internationally', said John Smith, Managing Director of Eurotunnel's UK freight operating subsidiary GB Railfreight. 'The extra speed and increased size of wagons that can be carried on HS1 bring significant advantages to rail freight transportation and we hope that this move will pave the way for further expansion of rail freight through the Channel Tunnel'.
As well as a more generous loading gauge, Eurotunnel says that HS1 offers the potential to cut the transit time for freight between London and the Channel Tunnel to just 70 min, compared with 4 h on conventional routes. Following trials earlier this year, the first revenue freight service on HS1 arrived in London on November 11 behind a DB Schenker Rail Class 92, having left Wroclaw in Poland on November 8.