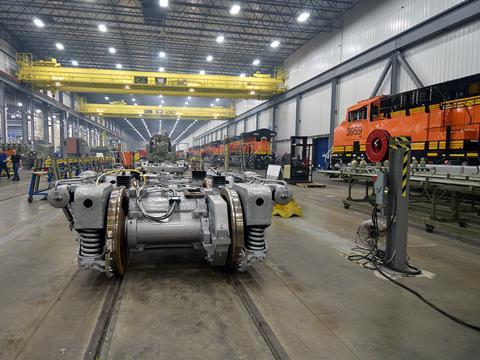 USA: GE Transportation announced on July 27 that it intends to transfer the production of locomotives from Erie, Pennsylvania, to Fort Worth in Texas. The move is planned by the end of 2018, and would see the loss of up to 575 jobs in Erie. The proposal is subject to a 60-day decision bargaining period, if requested by the trade union which represents staff at Erie.
'Given the continued challenging environment, we are taking a bold and difficult step to secure a long-term, sustainable future', GE Transportation CEO Jamie Miller said in a message to employees. 'While relocating jobs is always a tough decision, it is necessary to reduce cost and become more competitive in today's global freight locomotive market.'
The Erie site would in future focus on design, engineering, prototype development and the production of propulsion systems, alternators, mining equipment and grid blower motors, as well as control remanufacturing and the provision of spare parts. 'Even following this proposed transformation, Erie would remain our largest location with approximately 2 000 hourly and salaried employees', said Miller. 'The site will be a critical part of GE Transportation for years to come and this transformation will help write the next chapter.'
'In recent years, North American freight locomotive volume has dropped approximately 10% and locomotive orders for all manufacturers in the USA have declined', GE Transportation said in a statement. 'Today, growth market opportunities for locomotive orders are global. Given these market realities and the need for cost competitiveness across our global markets, GE Transportation announced its intent to transfer production of locomotives and kits for international customers to the GE Manufacturing Solutions facility in Fort Worth.'
Scott Slawson, President of Local 506 of the United Electrical, Radio & Machine Workers of America which represents production and maintenance workers at the Erie plant, said the union felt 'betrayed' by the news from GE Transportation.
'We've been working very closely with them for the past year and a half to improve quality, efficiency, delivery', Slawson said. 'Our efficiency is up to triple what Fort Worth's is in the locomotive business, and it's still not enough for them. Last November we signed a job preservation agreement with this company in an effort to not just preserve jobs but preserve the future of Erie. That agreement was signed in good faith and ratified by a vote of our membership. We were led to believe, by the company, that this was going to secure the future in Erie. Yet here we are, eight months later, being handed a transfer of work notice that basically says, we like what you've done but too bad.'