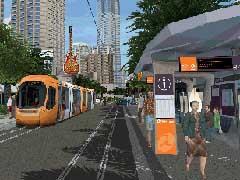 AUSTRALIA: Queensland Premier Anna Bligh and Transport Minister Annastacia Palaszczuk announced on May 6 that the GoldlinQ consortium had been selected to build and operate the A$1bn Gold Coast rapid transit light rail line linking University Hospital to Broadbeach.

The GoldlinQ consortium includes KDR Gold Coast Pty Ltd, a joint venture of Keolis and Downer EDI; McConnell Dowell Constructors (Aust) Pty Ltd; Bombardier Transportation; and investment company Plenary Group Pty Ltd.

'Over the last year the government's project team has been pouring through 150 boxes of documents from the final three shortlisted bidders', said Bligh. 'The end result is a public-private partnership with GoldlinQ that will deliver light rail to the Gold Coast and more than 6 300 direct and indirect jobs.'

GoldlinQ's contract to design, build, operate and maintain the 13 km light rail line with 16 stops will start on June 1. Preliminary work started in August 2010 and construction should begin in earnest later this year, with tracklaying envisaged in the second half of 2012. Completion is due in 2014.

The route will serve the new Gold Coast University Hospital, Griffith University, Southport medical precinct and the growing recreational centres of Southport, Surfers Paradise and Broadbeach.

According to Gold Coast Mayor Ron Clarke, the population of South East Queensland is expected to grow by 57% to 4·4 million by 2031, increasing the number of inhabitants on the Gold Coast to more than 800 000.