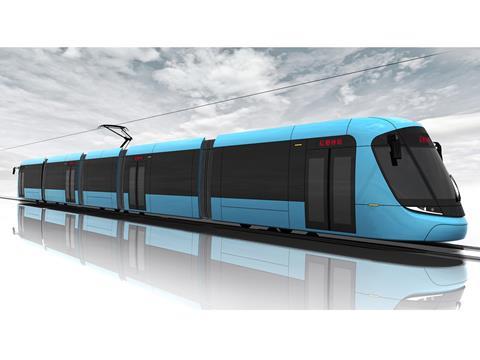 TAIWAN: Voith Engineering Services has revealed the design the trams it has developed with Taiwan Rolling Stock Co for the Green Mountain Line tramway project in the New Taipei City region which surrounds the city of Taipei.
The 8 km line will link Hongshulin station on the Taipei metro's Tamsui Line with the Danhai district, where the population is predicted to grow from 16 000 to 340 000 by 2041.
Construction of the line is being managed by China Steel Corp, with Taiwan Rolling Stock Co responsible for supplying the 15 vehicles. The five-section standard gauge low-floor bidirectional cars will be 34·5 m long. They will have onboard energy storage to enable operation without overhead wires across major road junctions.
Voith's rolling stock competence centre in Chemnitz is responsible for vehicle concept development and design, including analysis of reliability, maintainability and safety. It will also assist with production and systems integration in Taiwan.
A prototype tram is scheduled to be completed in 2016, with series production from 2017 and the first revenue operation in 2018.
A second tram line is planned for Danhai, the Blue Ocean Line which would serve the waterfront area.