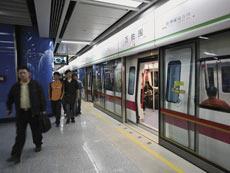 CHINA: The metro network in Guangzhou was reconfigured on September 25, when the existing Line 2 between Sanyuanli to Wangshenwei was split into two sections. The north-south route from Sanyuanli to Jiangnanxi remains as Line 2 while the east-west section from Xiaogang to Wanshengwei has been redesignated as Line 8.

At the same time, Line 2 was extended north to Jiahewanggang and south to Guangzhou South Railway Station, taking the total length of the underground line to 31·4 km with 24 stations. A new section of Line 8 west from Xiaogang to Changgang provides an interchange to Line 2. A further extension of Line 8 from Changgang to Fenghuang Xincun with three stations is due to open on November 3, creating a 14·8 km east-west line with 13 stations.
Also inaugurated on September 25 was a northern extension of Line 4 from the Line 5 interchange at Chebeinan to Huangcun, with an intermediate station at Chebei.

With the Asian Games due to take place in Guangzhou from November 12 – 27, several more extensions are expected to open in the next few weeks. A northern extension of Line 3 from Tiyu Xilu to Airport South station is due to open on October 30, while trial operation of the Guangzhou – Foshan line between Xilang and Kuiqilu is expected to start on November 3. The Chigang Pagoda – Linhe Xi peoplemover paralleling the central section of Line 3 is expected to open on the same date.