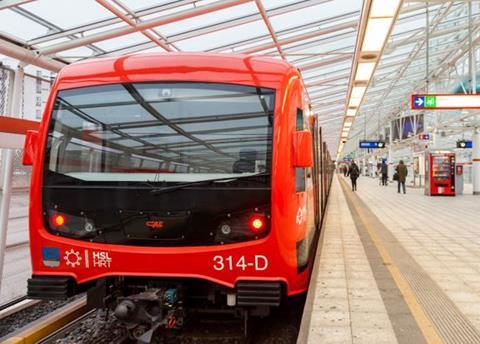 FINLAND: Helsinki transport operator HKL has awarded CAF a €39·9m contract to supply a further five four-car M300 metro trainsets and provide spare parts over their expected 40-year life.
The additional M300 sets are scheduled for delivery from CAF's Zaragoza plant in 2022, providing an increase in capacity to handle the forecast increase in ridership when the Matinkylä – Kivenlahti second phase of the Länsimetro extension opens in the early 2020s.
CAF has previously supplied 20 M300 trainsets in 2016-17. They are 90 m long, with wide gangways and a capacity of approximately 575 passengers.
The latest order finalised in late January will take the metro fleet to a total of 50 trainsets, including six M200 and 19 M100 sets.
HKL and CAF have also agreed to modify the existing M300 units to improve the ergonomics of the cabs. The cabs were designed for temporary use pending a planned switch to unattended operation, however the automation project was subsequently put on hold in the face of mounting technical difficulties.
The layout of the controls will now be modified, and the driver's seat will be replaced with a design offering a greater range of adjustments as well as the option to operate the trains while standing.