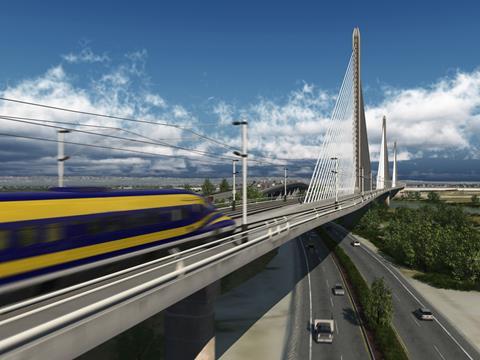 USA: By the 'soft deadline' of October 22, California High Speed Rail Authority had received 10 responses to its request for expressions of interest in a contract to supply trainsets and a maintenance facility.
Responses were submitted by:
Alstom Transportation;
AnsaldoBreda;
Bombardier Transit Corp;
CSR Corp;
Hyundai Rotem;
Marnell Transportation;
Kawasaki Rail Car;
Siemens Industry;
SunGroup USA & World Harmony City/CNR Tangshan Railway Vehicle Co;
Talgo.
The expressions of interest are intended to enable CHSRA to 'open up conversations' with manufacturers to help shape the upcoming request for proposals. CHSRA is looking for information regarding procurement and how the manufacturers propose complying with Buy America and Buy California provisions.
The initial procurement is expected to be for a base order and options for up to 95 trainsets, suitable for 'sustained speeds' over 320 km/h (200 miles/h) to offer Los Angeles – San Francisco journey times of less than 3 h.