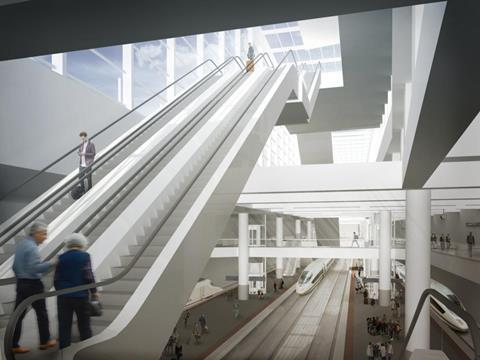 SPAIN: Development Minister Íñigo de la Serna has unveiled plans for the second phase of a capacity expansion programme at Madrid Atocha station, designed by architect Rafael Moneo.
In preparation for the opening of the 1 435 mm gauge tunnel under Madrid to Chamartín, built at a cost of €322m and currently undergoing testing, capacity at Atocha is to be increased to enable the station to handle up to 40 million passengers a year, compared to the 22 million recorded in 2017.
Work costing a total of €432m at Atocha will include the construction of two 420 m long platforms served by four tracks on the route to Chamartín, located underground on the western side of the station. A new concourse and the remodelling of existing facilities will provide direct access to all 14 terminating tracks as well as the four through lines to Chamartín, while the historic trainshed in front of the modern station at Atocha is to be reconfigured to smooth passenger flow.
Capacity into Madrid from the south is being increased under the €646∙5m project to widen from two to four tracks the high speed line between Atocha and Torrejón de Velasco, used by services to Valencia, Málaga, Córdoba and Sevilla. With preparations now underway to call tenders for design studies, a new connection that would enable services from the high speed line to Barcelona to continue to Chamartín via Atocha is expected to cost €90m to build.
At Chamartín, €237∙6m is to be spent on converting two of the 15 1 668 mm gauge tracks to 1 435 mm, and on providing an additional four 1 435 mm gauge tracks for high speed services. The existing concourse will be extended to accommodate the expected increase in high speed passengers.