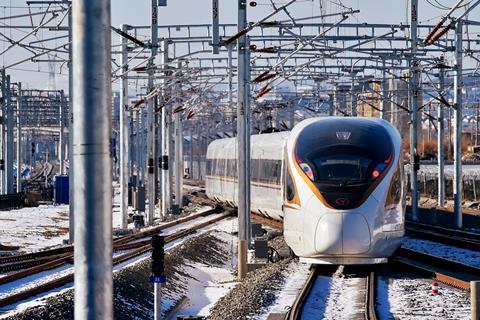 CHINA: The 174 km Passenger-Dedicated Line running northwest from Beijing to Zhangjiakou was opened for revenue service on December 30, along with the 53 km branch from Xiahuayuan Bei to Taizicheng which has been built to serve the Chongli Olympic Village and venues for the 2022 Winter Olympics.
Under construction since 2016, the line diverges from the existing network at Qinghe, just north of Beijing Bei, and passes through the Great Wall area near Badaling. Intermediate stations have been built at Qinghe, Shahe, Changping, Badaling, Donghuayuan North, Huailai, Xiahuayuan Bei and Xuanhua Bei. The line has been built for 350 km/h operation, and is fitted with CTCS Level 3 train control to permit automatic train operation. Maximum speed on the branch is 250 km/h.
China Railway is initially operating 22 trains each way per day, many of which continue to Datong and Hohhot using the 287 km Hohhot – Zhangjiakou PDL that opened in 2017-18. The fastest Beijing – Zhangjiakou journey time is 47 min, compared with 3 h 7 min using the conventional line. Beijing – Taizicheng takes 1 h 4 min.
Four days earlier, CR opened the 418 km Nanchang Xi – Ganzhou Xi high speed line in Jiangxi province on December 26. Intended to form part of a future 350 km/h Beijing – Hong Kong PDL, the line is initially being operated at a maximum of 300 km/h. The line's 13 stations were initially served by 18 trains/day each way, until the national timetable change on December 30 which saw the service increased to 31 each way, with extras at weekends and holiday periods.
December 26 also saw the opening of the 335 km Qianjiang – Changde railway in Hunan province. This mixed-traffic line with 15 stations is designed for a maximum speed of 200 km/h.
Reflecting both the opening of new lines and the strengthening of services on existing routes, CR's revamped national timetable introduced on December 30 has seen a net increase of 529 trains/day across the network.