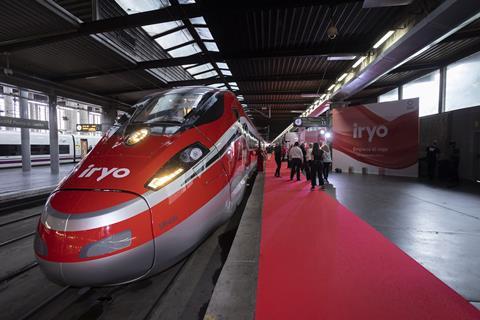 SPAIN: Globalvia formally completed its acquisition of a 24% stake in Iryo owner ILSA on September 23. This means the three shareholders in the open access high speed train operator are now Trenitalia (45%), Air Nostrum (31%) and Globalvia (24%). According to analyst reports, the transport infrastructure and motorway concessionaire is understood to have paid around €200m for its stake.
Commenting on the acquisition, Globalvia CEO Javier Pérez-Fortea, said that 'forming part of the largest Spanish private rail operator reinforces our commitment to new forms of mobility in the countries in which we operate. High speed rail will be an essential element for sustainable mobility, and we hope to advance in this field, together with our partners.'
Launch plan
Iryo expects to launch its first high speed open access service between Madrid and Barcelona on November 27. Ticket sales opened on September 15 for the Madrid – Zaragoza – Barcelona service of 12 trains each way per day on weekdays.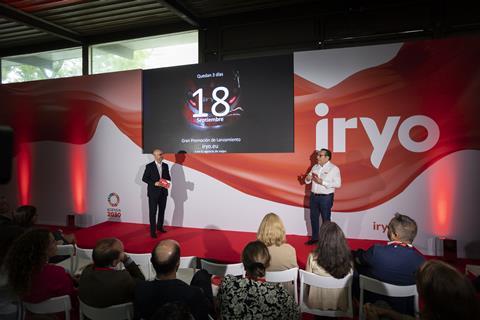 This is due to be complemented from December 16 by a route linking Madrid with Cuenca and València. Iryo is also planning to launch services between Madrid, Córdoba and Sevilla/Málaga during the first quarter of 2023, and trains linking Madrid, Albacete and Alacant are envisaged from June.
From the end of November, there will be three operators offering trains between Madrid and Barcelona under four service brands, providing 44 return trips between the cities per weekday. This comprises 21 AVE trains and four low-cost AVLO services run by state-owned operator RENFE, seven Ouigo services each way provided by SNCF, and the 12 Iryo train pairs. A daily RENFE cross-border service between Madrid and Marseille also uses the route. Taken together, this will be the most intensive service provided on the high speed line since it opened in 2008.
Catering focus
Iryo services are to be operated by a fleet of 20 eight-car Frecciarossa 1000 trainsets procured from Hitachi Rail and the former Bombardier Transportation. Onboard amenities will include three classes of accommodation, all with at-seat power and USB sockets, 5G internet reception and a free entertainment service.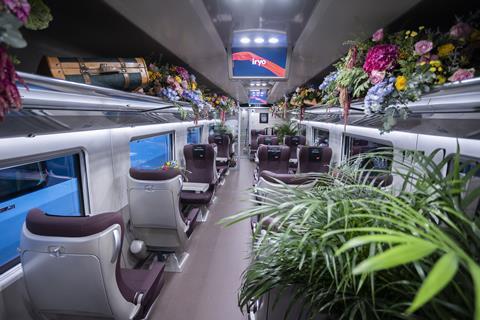 During a promotional period, single fares from Madrid to Barcelona will start at €18. Initially, from September 15, tickets could be bought only at Spanish travel agencies, with online reservations becoming possible three days later. Starting on November 25, Iryo will also make available an app for passengers who want to buy tickets via mobile phones.
Iryo has branded its onboard catering offer Haizea, which is a Basque term meaning 'daughter of the wind'. Four menu options will be available:
Infinita Bistró: the focus here is on healthy, fresh ingredients, often sourced locally, with a range of drinks from well-known brands;
Menú de Mercado: an at-seat service of quality seasonal food, reflecting market trends, with sharing options for families and groups;
Bar Restaurante: Spanish cuisine, in the café area, with a selection of tapas and larger dishes;
Bar Móvil: a trolley service of drinks and light refreshments.
The business class accommodation is branded Infinita and offers 2+1 seating, while a premium economy option is known as Singular and standard class Inicial; both have 2+2 seating arrangements.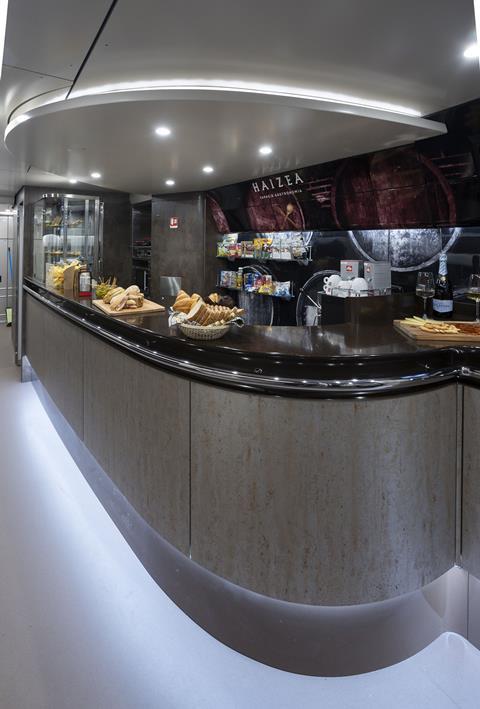 The operator is also offering options for connecting travel services, including combined air-rail bookings using Air Europa flights, which have a focus on serving the Spanish islands. Iryo tickets will be accepted for free travel on Cercanías services in Madrid and on RENFE Rodalies services in Barcelona. The 'Iryo by Imbric' app will offer passengers the opportunity to reserve first and last mile travel services using taxis and other means of shared transport.