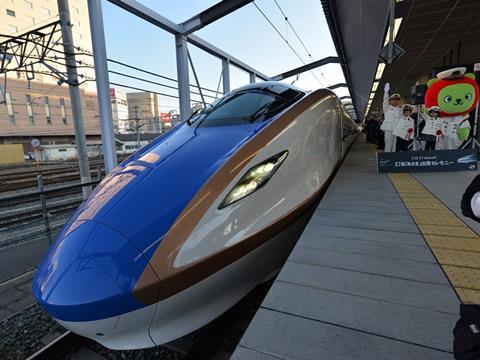 JAPAN: Plans to extend the Hokuriku Shinkansen to Shin-Osaka via Obama and Kyoto were agreed by the coalition government on December 20.
A 125 km section extending the line from its present terminus at Kanazawa to Tsuruga is currently under construction, with completion expected in 2022-23. The government's decision will see the route continued further along the Sea of Japan coast to Obama and then south to Japan's ancient capital of Kyoto. From there the line would continue to Shin-Osaka, effectively duplicating the Kyoto – Osaka section of the Tokaido Shinkansen — a decision on the routing of this final section is expected by the end of March 2017.
The choice of route for the Tsuruga – Kyoto section follows analysis of three possible options that were set out in a report made public on November 11; the rejected alternatives were to run via Maizuru, further west along the coast in Kyoto province, or to the east of Lake Biwa in Shiga prefecture with an interchange to the Tokaido Shinkansen at Maibara.
No date has yet been set for construction to start; the current expectation is that work will not commence until around 2030, with completion envisaged 15 or more years after that. There is pressure from communities along the route to make an earlier start, but this will depend on the availability of funding.