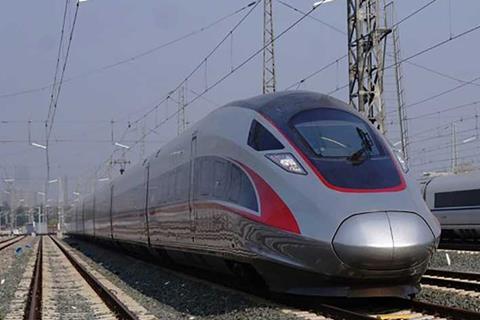 INDONESIA: PT Kereta Cepat Indonesia China, the consortium responsible for building the 142∙3 km high speed line between Jakarta and Bandung in western Java, has announced that the line will not now open for commercial services until October.
After several previous postponements, opening of the 1 435 mm gauge route designed for 350 km/h running had been planned for August 18.
The consortium, in which Indonesia has a 60% stake through local partner PT Pilar Sinergo BUMN Indonesia, said that more time is needed to carry out safety checks and further test running. KCIC indicated that it was working with the transport ministry in order to secure the necessary certification for operations.
A report in The Jakarta Post earlier this month had suggested that the operator was seeking a temporary operating permit rather than a full licence, a move criticised by local transport specialists. The same newspaper quoted spokesperson for the PT Kereta Cepat Indonesia China consortium Eva Chairunisa saying that 'as the first high speed rail link in Asean, operating the train requires very careful preparation. All aspects will be prepared properly to prioritise customer safety.'
Earlier this month Indonesian President Joko Widodo said that he was expecting to participate in trial runs during September, saying that 'as soon as everything is ready, it will be in operation'.
Current proposals suggest that there will be a soft launch with a period of trial operations when passengers may be carried without charge before the line opens for fare-paying services.
The line has been designed for trains to complete the trip between the capital and Bandung in just 36 min compared with more than 3 h by conventional trains on the existing 1 067 mm gauge route. During trial running in June a test train reached a top speed of 386 km/h.
Services will be operated by a fleet of 11 eight-car CR400AF trainsets supplied by Chinese manufacturer CRRC Qingdao Sifang.
The project is understood to have overrun its budgeted cost of US$5∙5bn, but terms were reportedly agreed in February this year for an overrun of US$1∙2bn.