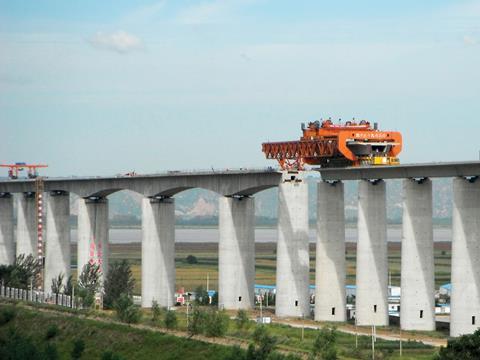 CHINA: The 570 km Taiyuan – Xi'an high speed line opened with a national timetable change on July 1.
The Passenger-Dedicated Line cuts journey times between the cities from 10 h to 3 h, and will eventually form part of a 900 km route from Datong to Xi'an designed for 350 km/h operation with 18 new and 11 modernised stations.
DB International supervised construction of a 277 km section of the route. Because of poor ground conditions much of this is supported on piles driven to depths of between 45 m and 60 m. Around 90 km runs on a total of 114 bridges, including 15 viaducts longer than 500 m, and three tunnels total 12 km. Incremental launching was used to erect bridges over three active railways, and a 10 km viaduct across the Yellow River valley includes a 3 km crossing of the river with spans up to 108 m.
The line is mostly laid using the Chinese Railway Track System, and is fitted with GSM-R and the ETCS-derived CTCS.